You may know that ice cream cakes are getting very popular in Indonesia and young artisans are making new and unique Gelato flavours with local ingredients and influences. The growth of gelato cafes in Indonesia has not only been rapid, but they have become a place for young people to hang out as an alternative to coffee shops. With all this growth in gelato culture, there are big expectations for the upcoming performances of the Indonesia Team at the 2022 Asian Gelato Cup.
The second edition of this biennial event will take place from October 25th to 28th 2022 at FHA-HoReCa (Singapore Expo), with 6 national teams competing to create the best gelato, plated dessert, gelato cake, and an artistic showpiece. Frozen Art Chef is pleased to give a second preview of the competition – which is supported by the Singapore Pastry Alliance, Gelato e Cultura S.r.l. and the Italian Exhibition Group Expo S.p.a. – and we are thrilled to interview the Indonesia Team's Manager Louis Tanuhadi. 
This extremely kind and professional chef is actually the Director and Executive Pastry Chef at the Academy of Pastry & Culinary Arts Indonesia, the secretary general of the Indonesia Pastry Alliance as well as an Ambassador for Embassy Chocolate. He has been the Captain at the very first Asian Gelato Cup at Food&Hotel Asia (FHA) in Singapore, representing Indonesia. He recently started running gelato courses in collaboration with Carpigiani Gelato University.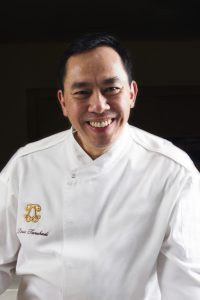 1. Hi Chef, please tell us more about yourself.
I was intrigued by the world of pastry from a young age as my father was a baker. I grew up and studied the basic techniques of pastry and bakery on my own. I have been an independent self-learner, as the European pastry schools were very far and expensive for me at that time.
In the early 90's, I worked for an important German baking ingredients company and I had the opportunity to do an internship at the Hollandische Kakao-Stube in Hannover, Germany. I'm grateful for this experience, as it allowed me to gain more knowledge about European pastry Art. I also studied at the Ecole Lenotre and the Ecole Bellouet Conseil in France.
I immediately fell deeply in love with the world of chocolate, so I decided to focus more on it and become a chocolate and pastry professional rather than continuing with baking. 
I'm dedicating all my energies and most of my time to educating young Indonesian chefs at the school I founded in 2019. The Academy of Pastry & Culinary Arts Indonesia (APCA Indonesia) is my beloved creation. APCA is a multi-national educational institution headquartered in Malaysia. I believe it was time for me to share and transfer the experience I have to the younger generation, both in terms of knowledge and expertise, as well as in terms of participating in competitions held both domestically and in various countries. 
As secretary general of the Indonesia Pastry Alliance, I will uphold my responsibility.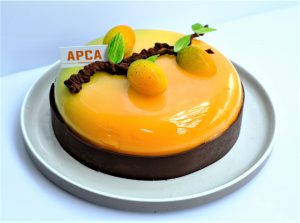 2. What did you do in order to make your area come true? 
I let my career flow, I listened to the many great chefs I know, and I made their positive teachings and inspirations my own. I changed my mindset: I didn't want to be just an ordinary worker, I aimed to inspire many people with my work. The best way to inspire the youngest generations in Indonesia is by challenging them with competitions, so I put all my effort to take part in the Asian Gelato Cup in 2018 and I'm proud to be back now.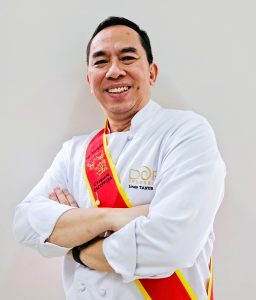 3. What is your opinion about the Indonesian passion for Frozen Desserts? And please give us a preview of your team.
The Indonesian Frozen Desserts are influenced by various countries, in Asia, and in Europe, but there is a substantial difference: our creations are richer and more diverse in flavour, especially compared with Frozen Desserts in Europe. Indonesian people are "wild" food lovers, there is an inner passion and continuous research on intense flavours and sour and sweet combinations. Our clients are curious to try out new tastes and when we mix nuts, milk, spices, and local fruits…frozen desserts are always a blast!
The Indonesian team this time consists of 3 people with different backgrounds; I am the Team Captain, Jovita Pranata is the Gelato Chef, and Lizzie Halim is the Pastry Chef. The theme for this competition has been determined to be Tropical Paradise, so we will focus on local Indonesian flavors in the products we create. We are working hard and I'm sure the judges will have some spice up!
The Asian Gelato Cup is very important for us, not only because we compete for intelligence and skills, but especially because we build connections and strengthen life-long friendships. Every good chef should know and deepen the culture of other countries and the combination of pastry and gelato art happens only when we go beyond the limits.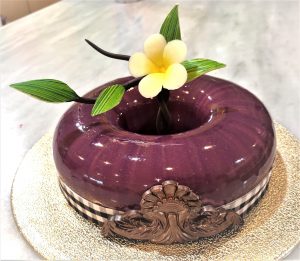 4. Tell us more about your relationship with Frozen Desserts.
I am a sweet lover and besides that, I live in a tropical country. It has become a special hobby for me in enjoying various local frozen desserts which are mostly dominated by fresh tropical fruits. When I grew up and got to know the techniques of making ice cream or gelato, it became a pleasure to be able to turn various flavors into frozen desserts that become soft in the mouth.
In my opinion, Asian frozen desserts are richer in taste and variety of components in one bowl/cup compared to European frozen desserts which only consist of 1 or 2 flavors, and few toppings. Examples of famous Asian Frozen Desserts are Halo-Halo from the Philippines, Es Campur from Indonesia, Nam Keng Sai from Thailand, Ais Khacang from Singapore, as well as Patbingsu from South Korea.
In today's business, if someone opens a bakery or pastry shop, it has become a must, to have a special corner that also provides frozen dessert. Pastry and bakery products now cannot be separated from frozen desserts, especially gelato, they complement each other.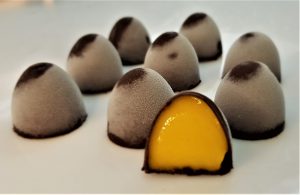 5. Would you share with us a gelato recipe able to generate happiness?
I'm pleased to share with Frozen Art Chef readers one of my last creations, it's called White Paradise.  I thought of it and realized it during the Escoffier Soiree Blanche event that recently took place in Jakarta. It's a plated dessert that includes coconut gelato. Feel free to download it HERE and I hope you like it!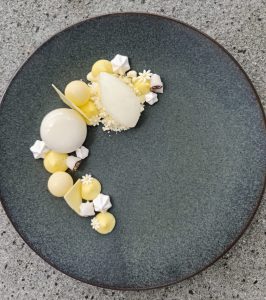 6. Please share with us some advice for young students who want to become successful Chefs and champions in your country.
Today's young generation, especially students who aspire to become reliable chefs someday, must have a real passion for this type of work. They should look for a mentor, a chef who is highly dedicated and has got strong ideals who cannot be compromised. High quality must always be the goal. Every successful chef I know used to have a good mentor.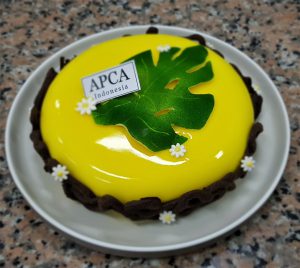 7. Last but not least, what about Frozen Dessert Trends in Indonesia?
The frozen desserts of tomorrow in many modern countries will focus more on health and low-sugar levels. We can also forecast a decrease of sweetness as it has already been requested by various Ministries of Health. However, from my side, In Indonesia and in other Asian developing countries, we may especially wait for a boom of gelatos and frozen desserts made with local flavors and ingredients, which will be more and more loved by people from these countries.
They are more familiar with local ingredients (by the way, our fruit is exceptional) and spices, and also tourists and ex-pats who come to Asia expect to enjoy locally flavored gelatos and sorbets, rather than pistachio or ricotta flavors. Variants of popular local flavors will be more and more found in the next few years in our gelato shops.