The World's 50 Best Restaurants named Singaporean Angela Lai of Taipei's two-Michelin-starred restaurant Taïrroir, Asia's Best Pastry Chef of 2021.
Waiting for the 2022 rankings, we have been honoured (and seriously had a blast!) while speaking with her, discovering her signature frozen desserts, where she gets her inspiration from, and her experience moving to Taiwan. The 36-year-old chef is one of the few women who has been included in the top list of this prestigious awards programme, so Frozen Art Chef wanted to dedicate her this month's interview. Angela spent four years of training and working in pastry shops, restaurants, and hotels in Singapore, before she secured a position at Guy Savoy's (now defunct) eponymous French restaurant at Marina Bay Sands. Here, she met the only Taiwanese chef at the restaurant, chef Kai Ho who – three years later – invited her to be the pastry chef at his brand-new restaurant, Taïrroir in Taipei. Angela soon became a key player there and within the country's gastronomic scene, her star quickly rising.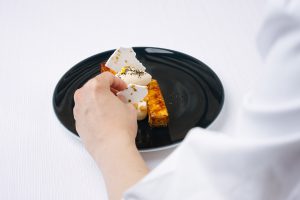 1.Dear Angela, how did your passion for bakery, pastry, and frozen desserts start?
It started when I was little: I hung around in the kitchen with my mother – who loves baking during her free time- when I was 4 or 5, and eventually progressed from being a trouble maker to an assistant. Her fruit tarts and cream puffs are still some of my favourite desserts. Since then I had a passion for baking and pastry arts. However, being a chef isn't that glamorized back then in the society, so I got myself a Diploma In Hospitality Management instead. After having a year of experience in the sales department of a well-established hotel in Singapore, I made a career switch and enrolled in the At-Sunrice Global Chef Academy. The school was at Fort Canning Park and the French Chef Frédéric Deshayes was Chief Instructor. I was impressed by his creations, so I decided to enroll in At-Sunrice. I discovered a new world: one where behind each dessert there is a story, well-researched chemistry, and infinite small details that make the difference between ordinary and extraordinary creations. I learnt the basics of making ice cream and gelato in school directly from Chef Frédéric, who is still my mentor. I then continue to learn more about frozen dessert when I was working as a pastry commis in Restaurant Guy Savoy, Singapore under my other mentor, Chef Alain Herber. This is where I fell in love with working as a pastry chef in a restaurant.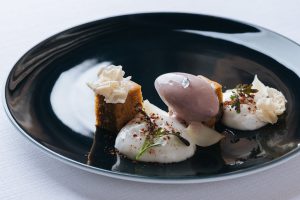 2. Can you recall important revelations in your work experience?
When I started working in restaurants, hotels, and cafés in my city-state, I realized that I wanted to be a restaurant pastry chef. I like the kind of "stress", the rush, the fact that you have to think on your feet, and the unexpected things can always happen. Moreover, after six years in Taiwan working with Chef Ho, I have fully embraced Taïrroir's philosophy of deconstructing Taiwanese cuisine, integrating French techniques, and infusing a global spirit into classic recipes. Discovering indigenous produce, learning more about food culture, and researching traditional desserts have all been part of my pathway, leading to new creations that I now consider my signatures. One example is the Pong Pia dessert, inspired by a traditional Taiwanese recipe for a sugar pastry that swells up during baking, becoming a hollow puff with a creamy filling at the bottom. With savoury notes from the sesame oil and smoky flavours from the Madong chocolate crémeux, as well as a variety of textures from the crunchy pastry to the creamy filling, it ticks all the boxes of what I would call a 'perfect ending'.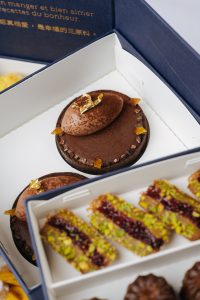 3. Tell us more about your ideal "perfect ending".
A great dessert is a combination of flavour, texture, and story. I always aim to give the right importance to the final step of the restaurant experience. When I worked in Singapore, sometimes restaurants neglected pastry and desserts – but that's actually the last impression of the meal. With Chef Ho, we try to make the whole meal memorable. So the dessert also has to be perfect – not too big, not too heavy, just enjoyable. I also like to challenge people who don't really like sweets to try my creations. To me, desserts are not supposed just to be sweet – they have to have balance and feel comfortable to give you that 'perfect ending' feeling. One another example? My sweet potato dessert with salted duck egg ice cream and oolong congee.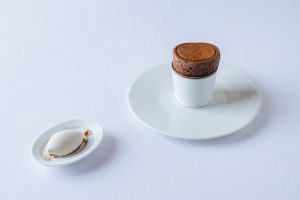 4. Do Singapore and Taiwan have a passion for Frozen Desserts? 
I think both Singapore and Taiwan love frozen desserts. From local delicacies of ice shavings with different types of toppings to ice cream, gelato, sorbets. I guess the increasing numbers of more localized flavours of frozen desserts could be one of the trends right now, but I don't think there's actually some sort of trend because it's difficult not to love frozen dessert! Well, at least to me it is (and laughs).
Just to reflect on the latest trends, currently on our lunch menu, inspired by a local delicacy, we started to serve Peanut Butter Gelato, Black Sesame Short Bread, Mochi Meringue Chantilly. Let us describe it as a glutinous rice ball served with peanut powder and sesame seeds powder. Our customers love the hot and cold contrast.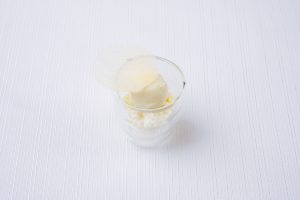 5. What about your relationship with Frozen Desserts? And which are the similarities and differences between Asian and European products in your mind? 
Research & Development on Frozen Desserts are my bread and butter since I started working in Taïrroir! Frozen desserts play a big part in our pastry menu. From pre-dessert to our mignardises, we always try to surprise our customers. I try to use different types or forms of frozen desserts to create different textures.
In my personal opinion, the similarities of Asian and European frozen desserts would be creaminess and density. There is also a lot in common in terms of flavours. For the differences, I think it's the use of spices, tropical fruits (or vegetables), and some different textures (eg. chewiness).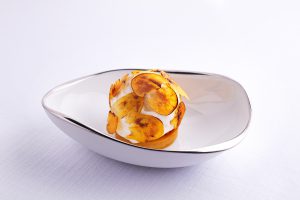 6. Would you share with our readers one of your outstanding creations?
Sure. Please try out a dessert that was on our menu in the last quarter of 2021. It has been inspired by the habit of pairing papaya milk with toast and jam in Taichung. We make a Papaya Milk Parfait, adding Toast Tuile, Toasted Bread Meringue, Papaya Gel, Papaya Leather, Salted Honey Cream, and Honey Powder.
7. Any advice for young students (especially women) who want to become successful Chefs in Asia? 
Perseverance, patience, and passion. One could have the passion but how to keep that passion burning would come a lot from perseverance and patience. So never give up even when you hit the wall. Find ways to break it, because if you never try you will never know.  Keep an open mind and enjoy the process. Let me highlight females' special values in the culinary and pastry world: the care for the little details, the intuition, and the sensitiveness…the most important challenge is how you prove yourself. But be positive: people will learn how to appreciate you. In the F&B there are still people who think that women don't belong to the kitchen but as you are able to prove yourself and you love what you do, you can succeed. The world has changed and women are more confident now.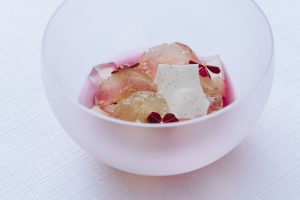 8. Which frozen dessert trend do you foresee in the next years?
People are more health-conscious nowadays so I guess that could be implied on frozen desserts as well. I foresee a trend on healthier and organic produce, sugars alternatives or less dairy, fewer sugar options.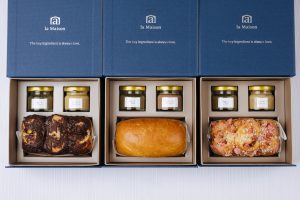 9. Last but not least, which will be your next move?
I'm open to new opportunities. I love Taiwan (it's a very friendly place) and I believe that I'll stay in this country for a few more years but we never know what can happen… Anyway, I love traveling, I've never visited Italy and France and I may take the chance to discover them and get more insight on European pastry and frozen dessert techniques. Life is a never-ending learning experience.