Artisan Gelato is reaching very high standards in Korea and passionate chefs are making new and unique creations. Not only are gelato cafes booming, but many restaurants and pastry shops in Seoul are adding gelato to their menu. With this frozen dessert trend in Korea, there are big expectations for the upcoming Korea Team's performance at the 2022 Asian Gelato Cup.
The second edition of this biennial event will take place from October 25th to 28th 2022 at FHA-HoReCa (Singapore Expo), with 6 national teams competing to create the best gelato, plated dessert, gelato cake, and an artistic showpiece. Frozen Art Chef is pleased to give a second preview of the competition – which is supported by the Singapore Pastry Alliance, Gelato e Cultura S.r.l. and the Italian Exhibition Group Expo S.p.a. – and we are thrilled to interview Korea's Team's Manager. Si Yeon Yoo is making her presence felt across the gelato pastry spectrum, often with a distinctly feminine touch. At 34, Si Yeon is a Carpigiani Gelato University Instructor and runs her own gelato brand, Il più, and a HACCP-certified gelato-making factory. Last but not least, she speaks fluent Italian.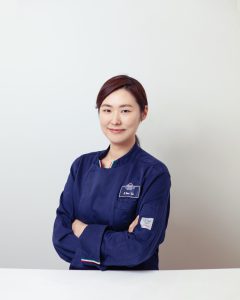 1. Hi Si Yeon, please tell us more about you.
Hello, I am a Gelatiere from Korea. I am currently educating prospective gelatieri, operating a HACCP manufacturing plant, and supplying my gelato to top-class hotels in Korea. Since 2015, I have been studying gelato at a gelato educational institution that represents the entire region of Italy, Carpigiani Gelato University. After meeting Master Gianpaolo Valli there, I have been able to expand the spectrum of gelato applications. In Bologna, during my courses, I entered an innovative and creative gelato world. I had planned to open an artisanal gelateria when going back to Korea, but I had some issues. The ingredients I used in Italy during my studies differed from those available in Korea. I had to deepen my gelato studies in order to match the Korean taste and the Italian knowledge. After two years, in 2017, I established the company Gelato Korea Co., Ltd. and I opened my first gelato laboratory Il più, using the most innovative technologies: Carpigiani Maestro, Pastomaster HE, Turbomix and the 161 G SP machine. In 2020, I opened a gelato-making factory certified by HACCP. I'm proud to be a professional gelato chef and I keep training Korean gelatieri.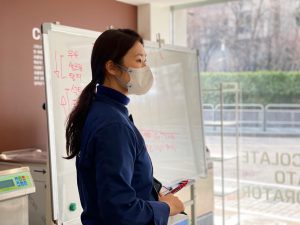 2. How did everything start?
I always had a passion for Italy. I attended middle and high school in Milan. During these years, I always enjoyed having gelato while walking home after school. After getting my diploma, I went back to Korea. At University, I had a tough time planning my career. In 2010, my mother shared an article just published in our most popular newspaper. It was an interview with a famous chef: he said that in 10 years frozen desserts will have played a big part in the Korean F&B market. I realized immediately that I had to focus on gelato; I wanted to learn more and become a great gelato chef. So, after graduating from University, I moved back to Italy and started my gelato educational pathway. I started my learning journey with the big ambition to widely promote gelato in my homeland. I put all my efforts into actively promoting Italian gelato in Korea and it has been a privilege to contribute to the formation of this market. Participating in Gelato International Competitions is a good opportunity to promote the growth of Korean gelato and frozen desserts to the world, and the opportunity has finally come.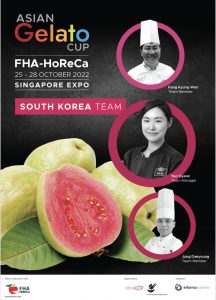 3. What about the passion that Korea has for Frozen Desserts? Please give us a preview of your team's focus in the 2022 Asian Gelato Cup.
The frozen dessert market in Korea keeps growing. In the past, the Industrial Ice cream market has been strong, but the Artisan Gelato market has been gradually increasing. In 2015, there were fewer than 10 Gelato shops across the country, today we count more than 170 gelato shops. Although it is still a small niche compared to the European market, it is expected to grow even more in the future. Gelato is a booming trend and another proof is the increase of high-skilled gelatieri in Korea. 
Our Korean team is preparing the competition menu with a focus on maximizing the taste and scent of raw materials and using Korean flavors and ingredients, but not unfamiliar to other countries. I'll be the Korea Team manager, Mr. Kang Kyung Won – who already participated in the 2018 Asian Gelato Cup, took care of the preparation of all the desserts during the contest, and received the special Plated Dessert Award – will have again the leadership in the dessert preparations.  Chef Kang is strongly specialized in bakery and pastry art. The second team member is Mr. Jung Dae Young, he will be the Showpiece Manager. Chef Jung is a well-known Korean Champion and he has excellent craft skills. He is also specialized in bakery and pastry art. If K-pop, K-Drama, K-Movie, and K-Food have become widely known and influential abroad… K-Gelato is the next frontier! Are you ready to explore and taste K-Gelato at the Asian Gelato Cup?!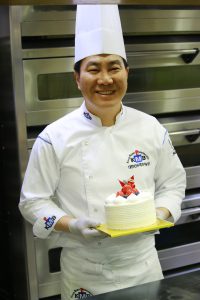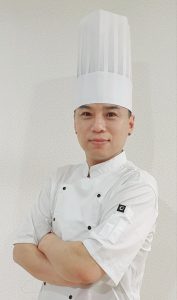 4. What's your relationship with Pastry?
I love gelato and I immediately discovered that it's inextricably linked to pastry. How to make Korean gelato pastry more enjoyable for consumers? First by introducing bread and cakes that can be eaten cold! There were ice cream cakes sold by large corporations, but I wanted to make a frozen dessert able to emphasize the unique character of Artisan Gelato. Nowadays my biggest challenge is to make Korean consumers experience gelato in innovative ways. A few years ago, I started collaborating with one of the most famous Korean bakery chefs, Justin Lee. When I teach, I always emphasize the opportunity to sell gelato-pastry products. Obviously, I tell my students that they shall get baking skills. Making gelato cakes or frozen desserts using gelato and pastry requires further studies. I did it first and I went to Paris (France) to learn pastry art. We recently invited Master Alessandro Racca of Carpigiani Gelato Pastry University to hold a Gelato Pastry seminar in Korea. We are collaborating with famous brands and chefs in the confectionery field to create Gelato Pastry products. 
I'm confident that we are ready for a new chapter now and I'll do my best to accelerate the growth of the frozen dessert market through technological exchanges and collaborations in Korea.
5. Would you share with us a Korean gelato recipe?
I'm happy to introduce Omija Yogurt. Omija is a sort of fruit. Omija means "five flavors", which are sweetness, sourness, bitterness, saltiness, and pungency. This fruit with a variety of flavors is an attractive ingredient that is used in various ways in Korea, such as tea, cooking, medicine, desserts, and alcohol. Omija has a strong taste, so if you make gelato or sorbet on its own, you can only get a stimulating taste. If you serve it with yogurt to soften the part, you can enjoy the taste and scent without stressing only the strong side of Omija.
Omija Yogurt
Ingredients 
Milk 170g
Yogurt 530g
Cream(38%) 30g
Skim Milk Powder 20g
Sugar 35g
Dextrose 10g
Stabilizer 5g
Omija Syrup 200g
Methodology
Mix everything in your batch freezer accordingly to the correct gelato-making procedures and enjoy it!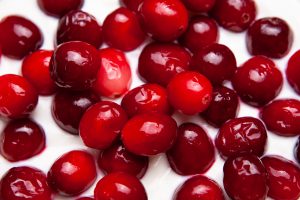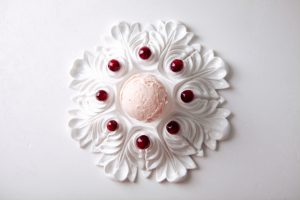 6. Any advice for young students who want to become successful Chefs?
There is only one thing I always emphasize: "Don't be afraid to try new things". If you make products using only familiar ingredients, flavors, and the usual manufacturing methods, you will have no choice but to stay in the same place. Even if the manufacturing method is wrong, the ingredients are chosen incorrectly, and the final product is tasteless and fails, the attempt can make you a more skilled chef who can discover novelty and find ways to improve. Those who are learning gelato for the first time want to make gelato by focusing only on the balance of the recipe, but more important than the recipe is the understanding of the ingredients. I can make a well-balanced recipe only after clearly understanding the characteristics of the ingredients (taste, aroma, properties, etc.).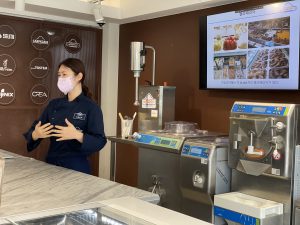 7. What is the next frozen dessert trend?
In an interview with 'Frozen Art Chef' in January 2021, I said 'The future Korean frozen dessert trend will be Gelato Pastry'. I've been working hard on that for over a year and a half, and I'm slowly shaping the Gelato pastry market in Korea. 
It will grow further, and I also plan to explore the Savory Gelato market through collaborations with not only dessert chefs but also culinary chefs. Earlier this year, I introduced Savory Gelato (Korean BBQ Flavor) through a famous Korean broadcasting medium. I have high expectations as it is an area that many chefs are interested in due to the influence of broadcasting.