The Asian Gelato Cup returns to 2022 FHA-HoReCa with up to 6 national teams competing to create the best gelato, plated dessert, gelato cake, and an artistic showpiece.
The second edition of this biennial event will take place from October 25th to 28th 2022 at the Singapore Expo, with support from the Singapore Pastry Alliance, Gelato e Cultura S.r.l. and the Italian Exhibition Group Expo S.p.a. 
"The competition seeks to heighten the tradition of artisan gelato in Asia, with primary goals of developing the professional skills of the gelato, dessert, and pastry chefs in the region whilst igniting creativity and interest in gelato making", say Singapore Pastry Alliance's Presidents Kenny Kong and Gary Lim.
And they continue: "this year's theme of "Tropical Paradise" will require the six competing teams (Indonesia, Malaysia, Philippines, Singapore, South Korea, and Chinese Taipei), to display a grand gelato buffet consisting of plated desserts, gelato cakes, gourmet gelato, and an artistic showpiece within a time limit of 8 hours".
Top performing teams will gain the chance to represent Asia in the prestigious Gelato World Cup 2024 to be held in Rimini, Italy. To bless the Asian Gelato Cup, guarantee the highest standards and strengthen the connections, the Head Judge of the event will be the Gelato World Cup's President, Chef Giancarlo Timballo.
Frozen Art Chef has been pleased to interview the Singapore Team's Manager Francis Wong. Experienced pastry chef with a demonstrated history of working in the food & beverages industry, Chef Francis is skilled in Chocolate, Culinary Skills, Cakes, Cake Decorating, and Recipe Development. Strong operations professional graduated from Shatec.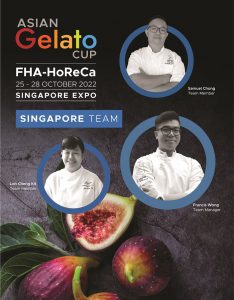 2. Hi Chef Francis, please tell us more about you.
I graduated from Shatec in 2008 majoring in pastry & baking. The road to attaining my achievements hasn't been easy. I had to endure long hours in the kitchen in order to learn from the best pastry chefs. As a pastry artist, I aim to bring art to the dining table. The idea of creating edible art pieces led to an opportunity to start up Non Entree in 2015. At the same time, I have been keeping to hone my skills by reading, traveling, and keeping in touch with my mentors. I've never stopped learning from them and we still catch up to share experiences, ingredients, technical skills, and the ever-evolving technology through advanced machinery.
I got the chance to learn about ice cream & gelato while being an intern at world-class hotels. On that occasion, I became interested in frozen desserts and got an opportunity to learn from the best when I participated in the world pastry cup.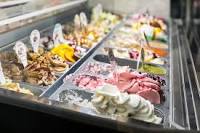 2. When did you start thinking about becoming a Chef and what did you do in order to make your dream come true?
Skills are something that will bring you to places. Hence, during my National Service, I decided to go into F&B because I love food. I never stop learning and I always ask for guidance. While training for the 2022 Asian Gelato Cup, I'm going the extra mile to share with my team the skills and experiences I got from my work and previous competitions.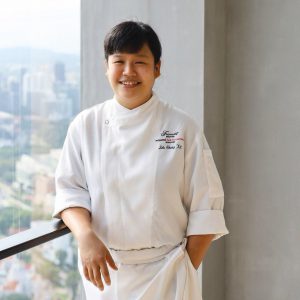 In the photo above: Chef Loh Cheng Kit (Singapore Team Member)
3. What about the passion that Asia has for Frozen Desserts?
The presence of frozen desserts in Asia started way back. Due to the warm climate, we have churned out ideas from the ice, just think about our Singaporean Ice-kacang and Asian-flavoured popsicles. Hence, that drives people to create frozen desserts and it starts to evolve over generations. Furthermore, when people travel and experience different concepts, they would want to bring back these ideas to their country and enhance them to suit their local palates and flavour profile. 
It's an honor that the 2022 Asian Gelato Cup will take place at Singapore Expo. The competition will kick off at 07:45 am. Plated desserts will come up at 11 am. Gelato tastings will start at 12 pm. Gourmet gelato will be served at 1 pm. The tasting of gelato cakes will be at 2 pm. Last but not least, the setting up of the centerpiece & all of their creations at the display table will happen at 3:45 pm. It will be intense timing.
We will be tested on nougatine art, chocolate art, gelato cake, plated desserts, one type of milk base gelato, one type of water base sorbet, and one type of savoy gelato. We are ready to surprise the judges!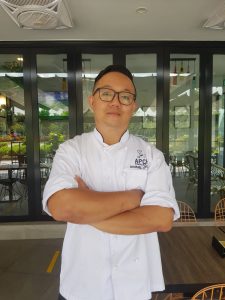 In the photo above: Samuel Chong (Singapore Team Member)
4. Which is your relationship with Frozen Desserts?
I appreciate and enjoy working on frozen desserts as they can be enjoyed during warm and cold seasons. The fundamentals of making desserts are universal. However, we love to infuse local ingredients and custom the flavours to the Asian palate. 
Frozen art is a perfect match with pastry and bakery. Asians enjoy ice cream with bread while European enjoy soft serve/gelato with donuts/croissants etc. Different cultures generate diverse opportunities!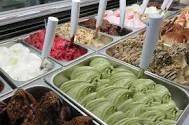 5. Would you share with us one of your favorite recipes?
Sure, I'm pleased to dedicate the Frozen Art Chef readers to a recipe that made me win one of the most challenging competitions.
Coconut ice cream
Sea salt 3.5g
Sugar 138g
Milk 638g
Coconut milk 150g
Coconut puree 938g
Ice cream Stabilizer 15g
Dextrose 75g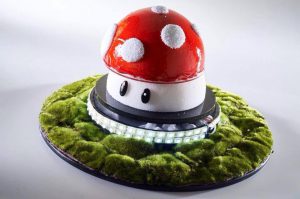 6. Last but not least, what would you advise young students who want to become successful Chefs and champions in Asia?
Perseverance and endurance of hardship in this industry. Never stop learning, skills and technology are always evolving. 
Let me conclude with a tip: vegan and keto frozen desserts will be the next upcoming trend because consumers are health conscious. There's a lot of potential in creating tasteful and healthy recipes. Keep up the good work, everyone, and see you at the 2022 Asian Gelato Cup: it will be a great occasion to start a new delicious and powerful gelato era in Asia!
Good luck, Singapore Team! In the next weeks, we will be pleased to interview the other Team Managers and give all of you the sweetest preview of the 2022 Asian Gelato Cup!
Meanwhile, let us thank the Presidents of the Asian Gelato Cup, Chef Kenny Kong, and Chef Gary Lim, and the President of the Gelato World Cup, Chef Giancarlo Timballo (the three of them are in the photos below) for the unparalleled support.