Hi Frozen Ary Chef lovers, we are happy to share with you a tasteful Gastronomic (and Vegetarian) Gelato Recipe created by Massimo Pasquarelli, Executive Chef at Ritz-Carlton Millenia Singapore.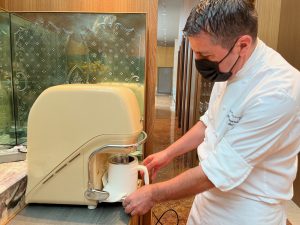 Ingredients
Tomato Sorbet
5 ripe beefsteak tomatoes, coarsely chopped
4g sea salt
1 red bell pepper, coarsely chopped
60g dry white wine
2 basil sprigs
Pinch of crushed red pepper

 

70g sugar
30g light corn syrup
90g water
15g fresh lemon juice
4g ground white pepper
Garnish
Ricotta
Basil Pearls
Aloe Vera
Micro Greens
Instructions
In a medium bowl, toss the coarsely chopped tomatoes with the salt and transfer them to the colander. Cover with plastic wrap and refrigerate overnight.
Remove the colander from the bowl and reserve the tomato water
Puree the remaining tomatoes with the bell pepper in a blender until very smooth. Strain through a fine sieve into a large saucepan; discard the solids.
Stir in the wine, basil, and crushed red pepper and cook over moderately high heat, stirring occasionally, until the puree is reduced (approx. 25 to 30 minutes).
In a small saucepan, bring the sugar, corn syrup, and water to a boil, stirring to dissolve the sugar. Remove from the heat and stir into the tomato puree, lemon juice, white pepper, and reserved tomato water. Strain into a pitcher and discard the solids. Cover with plastic wrap and refrigerate until cold, at least 4 hours.
Pour the sorbet base into the Freeze & Go machine and once the sorbet is ready freeze it until is set (about 20 minutes). 
In a bowl, set the Sorbet in the center and arrange the ricotta, the aloe vera, the basil pearls, and the micro greens nicely all around.