The last two years have been incredible, haven't they?
We are almost back to our "normal" lives, and in a certain sense, our lives may be better now, as Covid-19 gave us the chance to reflect and discover our real needs and wishes. Considering a "Frozen Dessert & Fine Dining point-of-view" – do not forget that these were some of the only treats available in these changing times. Thus, these frozen desserts have been deeply explored, with product selection and proposals changing dramatically, and for the better!
We asked Massimo Pasquarelli, Executive Chef of The Ritz-Carlton, Millenia Singapore what is on the menu today, what people ask for, and which are the trends he can foresee.
Let us also thank Chef Massimo for dedicating to Frozen Art Chef, two of his new and surprising gelato recipes: Oat Milk Gelato, Raw Honey, Granola, Apricot, Crispy Raspberry, and Tomato Sorbet, Ricotta, Basil Pearls, Aloe Vera, Micro Greens.
Chef Massimo is responsible for overseeing the 608-room hotel's restaurants, in-room dining, banqueting, and offsite catering operations. In 1992, after completing three years of Restaurant and Catering School at the Culinary Institute, Chef Massimo embarked on an apprenticeship at 2-Michelin star San Domenico Restaurant in Imola, Italy. In 1994, he commenced his culinary career by joining 1-Michelin star Harry's Bar Cipriani in Venice, and in 1995 served as the personal chef to the Brigadier General of the Italian Armed Forces before heading to Cecconi's, a 1-Michelin star restaurant in London. With more than 25 years of culinary experience under his belt, Chef Massimo worked at Le Cirque in New York before spending a decade with the Alain Ducasse Group with stints in various establishments such as Le Louis XV and Bar Bouef & Co in Monte Carlo, Hotel Plaza Athenée and Jules Verne Tour Eiffel in Paris, and Spoon at Sanderson in London. He was also part of the opening team for Mix in New York, Benoit Tokyo, Benoit Osaka, Beige Tokyo, and L'Andana in Tuscany. In 2012, Chef Massimo joined The Ritz-Carlton, Millenia Singapore as Executive Chef from the Shangri-La Aberdeen Marina Club in Hong Kong.
Passionate and dedicated to his craft, Chef Massimo has earned numerous awards throughout his illustrious career. Accolades include Chef of The Year (2013) within The Ritz-Carlton Hotels in Asia Pacific and the Global Chef Award (2014) by At-Sunrice GlobalChef Academy and Executive Chef of the Year and Caterer of the Year at the 2021 World Gourmet Summit. He is also the brainchild behind "SuperBrunch", The Ritz-Carlton, Millenia Singapore's very successful vintage Champagne brunch extravaganza and he has recently been invited to participate at the first Italian Festival in Singapore and collaborate with Chef Angelo Ciccone for an exclusive and charitable Gala Wine Dinner at Regent Hotel, Singapore.
Chef Massimo is married to a Japanese national and a father of three children. He enjoys the local culinary scene and trying new and regional recipes. In addition, Massimo is an avid Juventus Football Club supporter.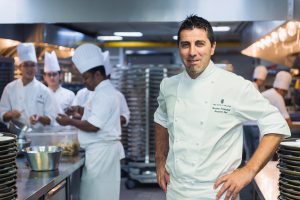 1. Chef Massimo, you received an important award during Covid-19 and the Ritz-Carlton Millenia has rich menus. It looks like you converted a crisis into an opportunity.
Thank you, well our loyal customers never abandoned us and we got more loyal customers in the last two years. Of course, we had to work hard and make our offerings attractive and uniquely customized, it's anyway part of our job, right? We had great fun while engaging our clients in memorable food experiences, and gelato has always been in the spotlight!
2. Please tell us more. What do you mean by saying "gelato experience"?
My clients know that I'm Italian and so naturally passionate about gelato. Months ago, I wanted to pamper a table of aficionados as they were having a special celebration, so at the end of the meal, I brought them a big tray with a selection of the gelato and sorbet flavors of the day, various toppings, waffles, and other house-made delicacies. I asked them to make their own gelato, have fun and surprise me. A smile immediately appeared on their faces and yes, they did a very good job! I was immediately asked by other clients to have the same gelato experience – they couldn't find it on the menu – so we decided to include it. 
3. Any other special requests from your clients?
Yes, the pandemic gave us the chance to speak more with them. We discovered that many people had food allergies or intolerances: Irritable Bowel Syndrome and diabetes look like common issues in Singapore. More people must eat dairy-free, gluten-free, low glycemic index, and they feel embarrassed and upset at the restaurant because they can't enjoy sophisticated dishes and frozen desserts. I proposed to make them with alternative ingredients (eg. Oat, rice, or almond milk instead of cow milk) or no added sugars. It wasn't difficult, as I had the chance to play with the Freeze&Go, the new little Carpigiani batch freezer that produces 500grams of gelato/sorbet in less than 5 minutes. While creating first-class flavours in small batches, I was enabled to personalize my menu in no time, and the smile on the face of the first client who tried my Oat Milk Gelato, Raw Honey, Granola, Apricot, Crispy Raspberry, persuaded me to go on (p.s. feel free to have a look at the complete recipe HERE).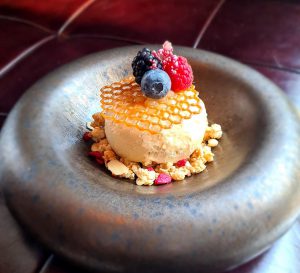 Pistachio and Hazelnut with oat milk or soy milk are delicious, you can have an amazing dairy-free chocolate gelato and all the sorbets can be realized without added sugars. Furthermore, if you make gelato and immediately eat it, you don't need stabilizers. The result is 100% fresh, genuine, and healthy. 
4. You are famous for creating "gastronomic gelato" with contrasting flavors. Have you explored new combinations in recent months? We would love to ask you for another recipe.
Well, in these changing times I found strength and hope while getting back to my roots and bringing them into my kitchen. I enjoyed playing with Italian and Asian miracle ingredients. Inspired by my beloved Caprese Salad, let me invite all the Frozen Art Chef readers to try out this Tomato Sorbet, Ricotta, Basil Pearls, Aloe Vera, Micro Greens RECIPE.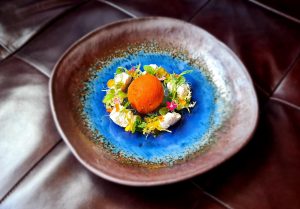 5. Shall the upcoming frozen dessert trends be full of emotions and super healthy?
Yes, they shall be. First of all, let me advise all the chefs here to listen to their customers. I'll be adding to my menu an "Inverted Affogato" very soon. Everyone here loves coffee and Affogato is an Italian must.  I just came back from a short holiday in my hometown and I wanted to surprise my customers (that often ask for an affogato, coffee + dairy gelato) with an alternative option (coffee gelato + hot milk, of course, it can be also plant-based). Trends start from hearing needs and wishes and finding creative and innovative solutions.
Frozen Art Chef interviewed Chef Massimo Pasquarelli's Gelato Extravaganza in April 2020, if you wish to discover more about his background and his advice to young chefs, have a read HERE.