Born in Macau and raised in Hong Kong (his family moved there when he was 6 years old), Chef Kuok I Hoi is the Executive Pastry Chef at the majestic Galaxy Macau, and he is also a judge at the World Association of Chefs' Societies. He's just 36 years old, but he has already won many gold international awards, as well as contributing to opening internationally renowned concept venues such as Resort World Sentosa (Singapore) and the Mandarin Oriental Guangzhou (China). Are you ready to discover his secrets?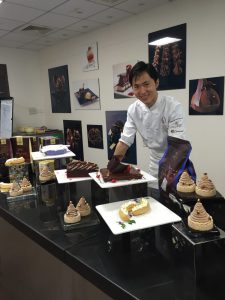 Chef Kuok picked up bakery skills from his teenage years. His father Hui Hong Kan was a Master baker in Hong Kong, making mooncakes and buns, white cakes and Asian pastries. He worked very long hours and in a tough environment. Kuok found his father's profession very interesting, but his father told him it was not a good a career choice. He wanted him to study and get an office job. It was only until Kuok joined the hotel and restaurant industry, that his father then agreed that it was, in the end, a good decision.
He speaks Cantonese, English and Mandarin fluently, and he began his professional culinary career in Hong Kong – starting on the service line – when he was 17 years old. After a few years, he decided to further improve his culinary skills in Singapore. At a tender age of 23 years, he represented Team Singapore as captain in the Asia Pastry Cup, defeating international teams like Australia, Malaysia and Taiwan, and winning, later on that year, the Chocolate Master Title in Kuala Lumpur. He also participated in the World Pastry Cup twice, achieving amazing results.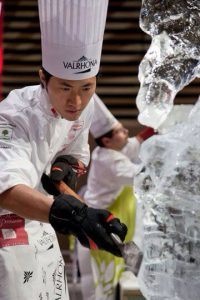 When Kuok served as Executive Pastry Chef at the Mandarin Oriental Guangzhou, the hotel's cake-shop was recognised as the best pastry shop in South China and received many international awards.
Nowadays he leads a team of chefs creating wonderful desserts across more than 60 restaurants, bringing his wealth of experience and expertise to ensure that the dining experiences at Galaxy Macau continue to delight every palate and preference.
1. Why did you fall in love with desserts and how did your career start?
I was initially self-taught, and started with Tiramisu and meringue. Every time you make a dessert, you come up with a different result. It all depends on what ingredients you work with, and the quantities you use. Initially, I was following recipes written in books, and I found dessert making quite a challenge as desserts take time and effort. Pasta is definitely easier to cook! Pastry and baking are different: you don't have a fish or a piece of meat in front of you. You get raw ingredients (flour, sugar, eggs, milk, cream…), you have to work with them and there are many steps to complete before achieving the final result. You must understand what underpins pastry and dessert making. I wanted to do more, and with this aim in mind I moved Singapore. I didn't speak English well then, so I attended an English Language course first, and then I enrolled at Shatec Culinary School. After my studies, I found a job in Conrad Hotel: they had a cake shop, a buffet restaurant, and they catered for banquets, weddings, events. Lee Kwan Yeow, the Founding Father and first Prime Minister of Singapore, and other Government officers were regular customers. In those days, I used to cook for Lee Kwan Yeow very often. He was a very humble man, talked to everybody and loved to share his opinions, whilst respecting those of others. He liked chocolate – not so much desserts – so we used to prepare a lava cake with dark chocolate (white chocolate was too sugary) and berries for him.
I worked at the Conrad for five years and during my time there, I entered many international competitions. As soon as I heard that the Casino in Resort World Sentosa was opening, I just sent my resume. When I joined, I began to share my father's love of baking and pastries, and shared my success in competitions with my parents. Resort World Sentosa's opening was tough – I was working super hard, extremely long hours, for two weeks. I would go home just to have a shower, and I started riding a motorbike in order to optimise my work schedule. In Singapore, many people remember me getting ingredients and tools everywhere on my Vespa! In 2013, I accepted a job related to the opening of the Mandarin Oriental Guangzhou because I was missing my family in China. This was the second opening of my career, and in a place where I never worked before. It was again very intense; I remind that we interviewed two hundred people in one single day. I started with eight people, then we became fourteen. One month ahead of the opening, I was still training the team, driving higher and higher quality, changing the presentation of the desserts and menus, educating people in fine dining and highest quality pastries. We engendered a lot of media interest and we were proud to be educating people and to showcase fine dining. At that time, I still had a girlfriend in Singapore, Yue Qin was working as pastry chef at Resort World Sentosa. She joined me in Guangzhou and we started looking around at other cities. I also wanted to keep on growing professionally, so I was happy to be approached by the Galaxy in Macau. These were also happy times as we got married and had a daughter, her name is Tian Xin. By the way, we are currently expecting our second child!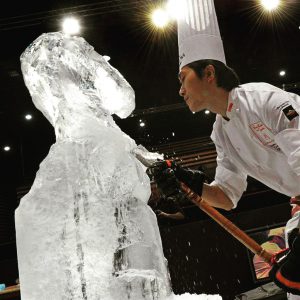 2. What do you think about Pastry Art in Asia?
The market is definitely growing but when a brand reaches Asia, the taste seems different, as if something is missing. I believe this is due to how the products are finished as, even if the ingredients are shipped over and don't change, the final result tastes different. I already had a fairly good knowledge about chocolate and gelato, but I wanted to go to Italy to learn more. I attended the full Carpigiani Gelato University professional pathway in Bologna, that led to my understanding of the issues relating to taste and quality. I realised that the reason why taste is affected in China, is related to the different seasons, as well as eating habits and preferences. Generally speaking, northern Chinese people appreciate strongly flavoured food. Very Spicy, very sweet, very sour; they also love alcohol. Southern Chinese people, on the other hand, prefer delicate tastes and flavours. Sugar has to be balanced with sour, salt and sugar in order to provide a good balance, that is the key.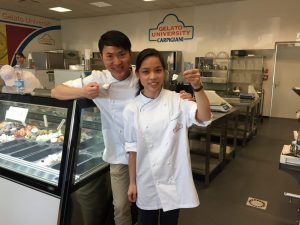 3. Tell me more about your relationship with Frozen Desserts. 
Every cuisine has got its own habits. In China, warm dishes are preferred; however, in the last years, we have started appreciating ice cream and although originally we never ate birthday cakes, this is a trend which is now well established.  I think it will take another twenty or thirty years, and one or two generations for this culture to establish, to the same extent as it has been established in Europe for centuries. For example, it is now quite common to have fridges in China, but not so common to have freezers yet.
4. An advice to the young students who want to become successful pastry Chefs?
My advice for young and aspiring pastry chefs who want to become successful is to spend time on their education, gain experience, travel and find out about trends in other parts of the world. It's easy to be inspired in France, Italy, Japan…China has got a strong background in bakery, so it's only a matter of time!  Go everywhere to learn, save your money to discover new places, new tastes and new skills. 
Young people need to understand the logic, the basics and once they have mastered the theory, then they can create something new, innovative, liked by the locals.
5. Last but not least, what would be the next frozen dessert trend?
The current trends are gelato cakes, sponge cakes, mousse cakes, birthday cakes and this will continue for a while. But the Frozen dessert trend will grow. Ten people who love frozen dessert become one hundred, one hundred become one thousand…
We need to disseminate the information that artisan frozen desserts are healthier than many other cakes or industrial products. That's basically the truth, but many people still don't know it. Mooncakes, buns, puff pastries… these are the desserts that Chinese people love, as they are crispy and fluffy. People these days are, however, much more health conscious, and bakeries have started to see a decline in sales. We can develop innovative and lighter frozen desserts further and think about creative recipes which include lotus, sesame, fruit. An inspiration may come from Tang Yuan (usually with peanut or black sesame fillings cooked in ginger soup).
6. Could you share with us one of your favourite recipes?
I'm happy to share with you one of my bestsellers: "Apricot, Champagne, Chocolat". You'll get the three recipes here.
Write at discover@frozenartchef.com and share with us your feedback. We are always happy to hear from you!