It happened again! Malaysia won the Asian Pastry Cup and the team is ready to surprise at the Coupe du Monde de la Patisserie in January 2023. Will the Asian team get the gold medal, like in 2019?
While waiting for the Grand Finale of one of the sweetest competitions ever, Frozen Art Chef is pleased to recap what happened at the 2022 Asian Pastry Cup.
On Wednesday 25-26 October, South Korea, India, Japan, Malaysia, Singapore, and Chinese Taipei created outstanding pastry and frozen masterpieces, including two frozen fruit entremets, twelve frozen lollipops, seven restaurant-style desserts as well as two 145 cm artistic pieces. An exceptional jury, chaired by Otto Tay (member of the winning Malaysian team of the CMP 2019) and made up of great pastry chefs, including Marc Rivière, World Pastry Champion in 2009, and member of the International Organizing Committee (I.O.C.) ranked Malaysia 1st, South Korea 2nd, and Chinese Taipei 3rd. Malaysia was also awarded the well-deserved special prize for test Taste, South Korea won the Best Display award, and India was honored with the Team Spirit Prize.
At the end of the competition, the I.O.C. also decided to reward the investment and the talent of the Singaporean team, host country, and 4th place of this Asian selection, allowing it to qualify for the Grand Finale. In addition, the I.O.C. decided to exceptionally award an additional Wild Card to the Philippines, who were unable to participate in this continental selection. For its part, Japan, runner-up in the 2021 World Cup, will also be present at Sirha.
Frozen Art Chef is pleased to give you a preview of what to expect at the 2023 Coupe du Monde de la Patisserie. We dedicate this interview to the 31 years old talented team manager of the Malaysian team, Chef Kean Chuan Yap.
1. Hi Chef, when did you start thinking about becoming a Chef?
My first memory related to pastry art is yuzu. When I tasted this fruit for the very first time, the flavor was so strong and intense that I wished to add it to ice creams, plated desserts, pastries, and cakes…I still enjoy experimenting with yuzu in the kitchen, and I do my best to create pastries and desserts that enhance ingredients like yuzu. Yuzu will be in the spotlight at la Coupe du Monde de la Patisserie, too.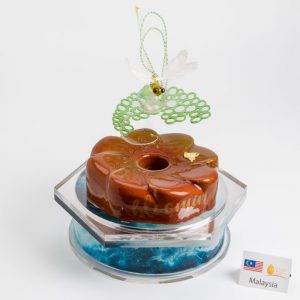 2. What did you do to make your dream come true?
I started my educational pathway when I was 15-16. I got a Diploma in Patisserie at the City & Guilds London School, and I had my first work experience in a bakery shop when I was 17. I immediately fell in love with this industry, my passion was there. I began at Maya Hotel as an intern and I met great chefs like Otto Tay, Wei Loon Tan, Kean Chuan, Bread Pitt, Lawrence Bobo, Loi Ming Ai, Chin Kheng Lim, Jean Francois Arnaud, and Niklesh Sharma. It was an honor being their assistant. After becoming a permanent chef, I worked at Maya Hotel for three years, then I moved to Hilton Hotel where I'm still working now. Since 2010 I'm supporting the preparation of the Malaysian teams for the World Pastry Cup and it has been a blast winning the Asian Pastry Cup a few weeks ago. I had already participated in the competition in 2017, and in 2016 my team got the Silver Medal at the Asian Pastry Cup, to have big results, you must work hard and never give up. In 2015 I achieved the Sugar Showpiece and Chocolate Cake Challenge Silver Medal at Food and Hotel Malaysia 2015. After that, I was awarded the Most Outstanding Ice Cream Cake and Chocolate Confectionery at the Mondial Des Arts Sucres 2018.  Let me add that pastry is all over my life. Also, my wife is a pastry chef, she won an important competition in Paris and has a small pastry business, we also have two kids now. It's challenging, but we are lucky to have help from our family. We know each other's needs and we understand why we work too much. My next step is to keep Malaysian pastry culture up. I'm the youngest in my team, I learned the team spirit from Japanese Chefs and I'd love to share my knowledge with the next generations of Malaysian chefs. Japanese train very hard for the spirit. I love it. We will always stay in the high rankings if we train hard.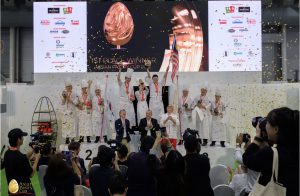 3. Would you like to introduce us to your team at the Asian Pastry Cup?
Sure. Lim Boon Chuan got an Advance Diploma in Culinary Arts and Diploma in Patisserie at the Baking Science & Technology School of Malaysia and he's a Pastry Kitchen Chef at the Hilton Hotel Kuala Lumpur. He's also a Pastry Technical Lecture at the Academy of Pastry and Culinary Art Malaysia. Mun Pui Teng graduated from City & Guilds (United Kingdom), and also got an Advanced Diploma in Patisserie at the Academy of Pastry Arts Malaysia and she's Assistant Pastry Chef there. She teaches different levels, from Basic to Advanced, and she supervises the 2 weeks Chocolatier and Part-time courses.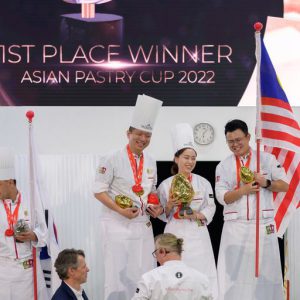 4. What about the passion that Asia has for Frozen Desserts?
First, Asian people love ice cream and gelato because our weather is always quite hot and we have a sweet tooth!
By the way, please note that pastries have to be less sweet today: healthy trends are booming in Asia, so we are cutting down on the sugars.
Moreover, being a frozen dessert chef, I know that if I cut down the sugars the ice crystal becomes bigger, and that's the challenge. We are all doing our best to have the right consistency and texture while reducing sugars.
Let me add that Asian people love flavours like pandan, gula-melaka (molasses), and coconut. We must create frozen desserts containing these ingredients to make our customers happy. And many of our local styles can become delicious gelatos and ice creams, that's the opportunity! Gelato Chefs should modify our localized flavours and make them high-end, to be successful.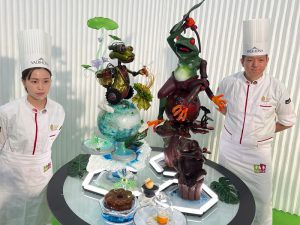 4. Which flavours do you like more?
I'm a fan of nuts: I like pistachio and hazelnut…I love milky and nutty gelato flavours, maybe that's why I also work for a dairy company now.
Speaking about competitions, I prefer to create exotic products that include fruit like coconut, pineapple, orange, lemon, or lime. We are now working in this direction while training for the World Pastry Cup. We are also incorporating herbs in our creations.
Let me say again that in Malaysian shops, the philosophy must be different. You cannot consider your taste and what wins in the competitions; your products should be localized.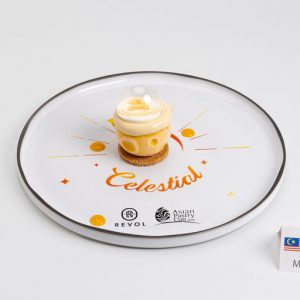 5. What about the similarities and differences between Asian and European frozen desserts?
In Asia, we love a crispy base and spiciness! But we need to find a balance because we like creaminess too.
Bon-bon, confectionery, and chocolate are not popular because the weather is too hot here, frozen desserts are very appreciated. 
In Europe, people are used to soft products, creamy textures, cakes… And they love sweeter products. In cold weather kind of pastries boom, people need their energy!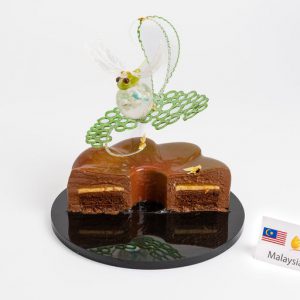 6. Is Frozen Art a good match with pastry or bakery?
Of course. All these arts are connected and people love frozen desserts, as well as ice cream sandwiches and gelato cakes. The problem in Malaysia is manpower. People don't earn so much in Food&Beverage so the chef's job is not popular among teenagers. They look for higher salaries. But things look like changing now.
7. Would you share with us one of your exclusive recipes? 
Sure, let me dedicate to the Frozen Art Chef lovers the Ginger cheese ice cream and Calamansi Mango Sorbet recipes we realized at the Asian Pastry Cup. The taste is less spicy than in Asia but we loved it and we are happy to share these recipes with you.
Ginger Cheese Ice Cream 
| | |
| --- | --- |
| Ingredients | Quantity (g) |
| Milk | 456 |
| Milk Powder 0% Fat | 34 |
| Sugar | 108 |
| Glucose Atomise | 60 |
| Inverted Sugar | 15 |
| Stab 2000 | 4 |
| Cream Cheese | 203 |
| Ginger Puree | 60 |
| Lime Zest | 2 nos |
| | |
| Total | 1000 |
Procedure: 
0°C – milk
25°C – milk powder

 

30°C – all sugars

 

45°C – stabilizer

 

Cook the mixture to 85°C and emulsify with cream cheese.

 

Cool mixture to 4°C and blend with ginger puree.

 

Store in the chiller overnight for maturation.

 
Calamansi Mango Sorbet 
| | |
| --- | --- |
| Ingredients | Quantity (g) |
| Water | 160 |
| Sugar | 162 |
| Glucose Atomise | 40 |
| Dextrose | 10 |
| Super Neutrose | 2 |
| Mango Puree | 415 |
| Calamansi Puree | 200 |
| Lime Zest | 1 nos |
| | |
| Total | 1000 |
Procedure: 
0°C – water

 

30°C – all sugars

 

45°C – stabilizer

 

Cook mixture to 95°C.

 

Cool mixture to 4°C and blend with puree.

 

Store in the chiller overnight for maturation.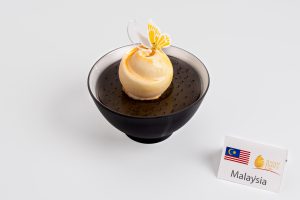 6. Last but not least, any advice for young students who want to become successful Chefs and champions in your country?
a. Stop thinking that a chef job is not a high-education job or a high-end job…it's not true! Dear Malaysian young chefs, you can succeed by studying and working hard.
b. Keep your patience, be humble, make good friends, and get ready to be scolded by your mentors and coaches. They'll push you a lot but it's for your good sake.
c. Don't give up, all jobs are tiring. 
d. Challenge your ability to work in a cross-cultural environment.
e. Know your customers first. Understanding the needs and wishes of your customers is the secret. Pay attention to the flavours they like most, and deepen the knowledge of their culture.
e. Focus on healthy creations, with fewer or alternative sugars. Also, the vegan trend may grow more. Many people are having allergies and intolerances. If you wish to think out-of-the-box…In India there are a lot of vegans and the Indian market is huge, as the Indian populations love frozen desserts. They are everywhere so…get ready!