If you think you've seen Chef Jackie Ang Po before, it's because you probably have. For many years Chef Jackie has been sharing her baking & cooking knowledge as chef/TV host of various TV shows such as True Confections and Del Monte Kitchenomics. A graduate of the California Culinary Academy, Chef Jackie has won several international culinary competitions both as a competitor & active mentor. Among her many awards, she has received Bronze for Singapore FHA Plated Dessert, Gold for Best Hongkong Food Expo-Live High Tea, Gold Award for Coach at the Hongkong Food Expo- Live High Tea and Coach at the Asian Pastry Cup – Best Display. She is an officer of the Pastry Alliance of the Philippines and owner of Fleur De Lys, a pastry cafe in Tomas Morato, Quezon City known for its delicious cakes & pastries. Last but not least, she's the Philippines Team Captain at the upcoming 2022 Asian Gelato Cup. She's training hard with her team members to compete in the second edition of the biennial competition – supported by the Singapore Pastry Alliance, Gelato e Cultura S.r.l., and the Italian Exhibition Group Expo S.p.a. – that will take place from October 25th to 28th 2022 at FHA-HoReCa (Singapore Expo).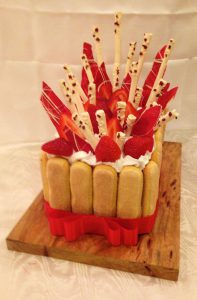 Interviewing Jackie gave a unique feeling of "Marahuyo", an ancient Filipino word that means "to be enchanted". Jackie is a Pastry and Gelato Queen who, once upon a time, wanted to become President of the Philippines. When her Filipino-Chinese parents explained to her that she was a naturalized citizen, Jackie Ang Po said: "goodbye to the presidency." But, so to speak, she has made a kingdom in her kitchen, ruling over her sumptuous cakes, and pastries, among other heavenly creations. In her sweet world, the spatulas are her scepter. Frozen Art Chef is pleased to give another preview of the Asian Gelato Cup.
Hi Chef, tell us more about yourself.

 
I studied at the California Culinary Academy and learned the art of Gelato from Chef Eric Perez of The Macaron Training Center in Bangkok, Thailand. But before becoming a pastry chef, I was a dreamer. I grew up in a family compound that had a big canning factory. Every summer, I joined my four older brothers and two younger male cousins to sell my own recipe of ice candy and sago to the workers. I also helped my brothers sell vegetables in the Quiapo market. When I was a teenager, my mother indulged me in cooking lessons with teacher Dorothy Ferreria. I further discovered my knack for pastry-making when aunt Aida Ang allowed me to toy with her baking pans. My first creation: apple pie. My aunt sold my apple pies to her friends at the Greenhills Bowling Center. That venture developed my love for pastry and ice cream.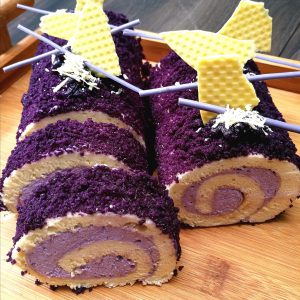 After a Management degree at the Ateneo de Manila University, my family allowed me to go to study and work in the US. I really had to strive hard. I graduated with honors in Baking and Pastry Arts at the California Culinary Academy and my career began.
Today I'm proud to be a food entrepreneur and an officer of the prestigious Pastry Alliance of the Philippines (PAP): I want to give back to the organization that has helped me in my career and I want other chefs to experience winning.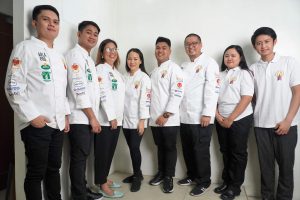 My family is the biggest accomplishment: a day with my husband Mitch Po and our children Kylie and Joaquin is a celebration beyond compare.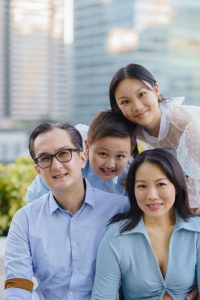 2. When did you start thinking about becoming a Chef and what did you do? 
I have always loved art and thought it would be great to work with pastry as it is edible art and people enjoy the food, especially the desserts. But I just really wanted to sell food for a living. I didn't know there was a title to it.  It was more of… I wanted to be a home baker. Then I studied and while working on my projects (I opened Fleur de Lys in 2001) I found a spot on Morato TV. I was just Heny's assistant then I was on TV with her. After that, I taught at Heny's school then I was asked by GMA (TV) to work for them. It was just availing myself of the opportunities presented and making sure to do my best. When you work hard, you succeed. As for being in the Asian Gelato Cup, I aim to learn more from other countries and improve my skills in gelato. I do my best in order to balance everything and choose only the best projects and competitions I can join as I cannot join all. I do take care of my family as a very hands-on mommy. What I decide to do becomes part of my personal commitment and I strongly believe that it will always pay it forward, which is why I continue to be in the competition circuit. First, I want to improve my skills as a chef, chefs are ageless. The older we get, the more respected we become. Secondly, we have to continue learning to teach young chefs to be world-class.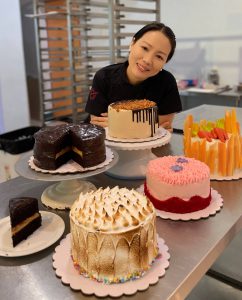 3. What is your opinion about the passion that the Philippines have for Frozen Desserts? 
The Philippines is a great place for Frozen Desserts as we have tropical weather. A dessert buffet or restaurant would always have ice cream or frozen desserts as part of the menu as this is really a favorite in Asia. Gelato is a classic dessert; many chefs should concentrate on this as it is really a favorite finishing for any occasion. It is not a passing trend; it has always been strong and is here to stay. Frozen desserts would be a fun addition to the menu instead of just scoops, which are still perfectly fantastic on their own. Frozen Art is first and foremost very fun and beautiful. And since Filipinos love gelato and ice cream here, we have to deepen our knowledge!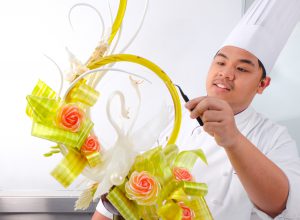 During our training for the Asian Gelato Cup, all the way from Italy, Carpigiani, and Fabbri supported us. We managed to discover more about the opportunities that these Italian brands offer. We were used to long and complicated gelato-making processes: it is much easier in this way and we can concentrate on flavor combinations and artistic strategies instead of procedures.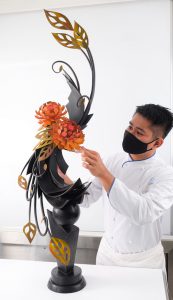 4. Tell me more about your relationship with Frozen Desserts. 
I learned Gelato Art in order to open a business with a friend. I needed to use Local Carabao's milk (Carabao is a water buffalo) and other local flavors in our artisan ice cream production. I still make Caramilk, a brand of yummy artisanal ice cream that I distribute in restaurants and specialty stores in Metro Manila.
I love the Italian way. From my observation at Sigep fair-trade (Rimini Expo, Italy) and all over Asia, Italian and Asian people like smooth and not-too-sweet gelatos. Italy and the Philippines especially share simplicity in flavours. We don't like to feel excessive mixed tastes in ice cream. But the quality is a must.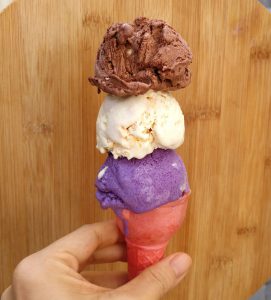 5. Would you share with us one of your gelato recipes?
Sure, I'm glad to share with Frozen Art Chef readers my Mascarpone and Coffe ice cream recipes. They are perfect to make a Tiramisu'Gelato Cake, you shall just be creative and add chocolate decorations and sponge cake.
Mascarpone Ice-cream
1036g       Milk 3.25% Fat
285g

       

Whipping Cream

 

70g            Milk Powder 0%
280g

         

Sugar
100g

         

Glucose Atomisé
140g          Egg Yolk
10g            Stabilizer
150g          Mascarpone
Coffee Ice-cream:
1036g        Milk 3.25% Fat
285g

         

Extra Whip Whipping Cream

 

70g            Milk Powder 0%
280g

         

Sugar
100g

         

Glucose Atomisé
140g          Egg Yolk
10g            Stabilizer
70g           Coffee beans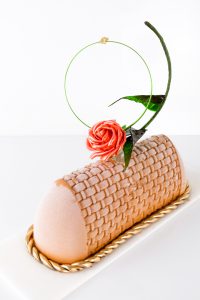 6. Any advice for women who want to be successful Food Entrepreneurs?
Capability first: you must have the necessary skills, it cannot be only passion. Secondly, focus on the Capital: you need to have the capacity to sustain your business. Then, the keyword is Commitment: be willing to be a 24/7 boss and employee at least for the first few years.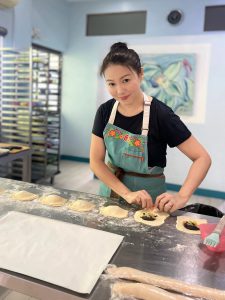 Food Entrepreneurs should go to traditional school and finish college: a big part of the business is related to people and management. The food business is more than a recipe.
When you are already in the business, keep learning and be open-minded. I guess the biggest mistake is jumping into a business just because you have money without really doing your homework. A business is always a calculated risk. It is not 100% guaranteed success and especially in the restaurant industry, where you can sink in as fast as six months. Furthermore, Have some experience first. I've seen culinary graduates "gifted" by their parents with a restaurant. It's a great gift but it should only be accepted with experience. If it's your case, ask experienced chefs for help. About staff, look for people who are always on time and don't like to be absent. People who don't like to complain. And if you fail, just stand up and work. There are so many great opportunities in our industry. Opening a school, catering, writing a book, being a corporate chef or consultant, etc. Do not be disheartened if you don't succeed at first.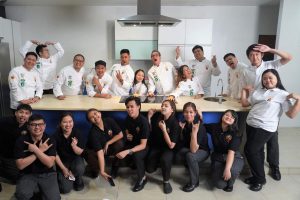 If you are a working mom, time management is the golden rule! There are many things I have to give up in my career to be a mother, but my children are a priority, so I do my best to strike a balance. Make sure you have people who can help you out with your children. I am lucky to do what I love: it outweighs the trials of being a mom entrepreneur.