Teh Tarik Gelato, 100% halal certified, anyone? If you never tried this version of gelato, let us recommend you take a flight and go to Kuala Lumpur, Malaysia. There's a shop that offers over 160 flavours and popsicles halal certified by Jakim. Its name is Idolci Gelato and it will make you discover innovative and sweet tastes. You will also have the chance to meet Chef Gigi Teoh, the local popsicle business pioneer, and Malaysia's Team Captain at the 2022 Asian Gelato Cup.
Chef Gigi is a gelato celebrity in Malaysia. The unique way she blends natural ingredients before freezing them into gelato dazzles customers. Today, Idolci Gelato is proud to be one of the few successful local companies, managed by local Malaysians, combining the art acquired from Europe in making ice cream more tastier and easily available for everybody to savour.
"Idolci Gelato has been through many events and our Gelato served many local and foreign dignitaries & celebrities in Malaysia. We aim to uniquely cater and tailor-make different flavours based on different market requirements, our Gelatos are always sought after during special occasions and festivals. Our stringent process in selecting quality ingredients to make Gelato the traditional way creatively has earned praises from chefs representing luxury hotels and high-end restaurants". Teoh was a pastry chef in Singapore before she returned home and worked as a gelato chef for a local set-up.
She's training hard with her team members to compete in the second edition of the biennial competition – supported by the Singapore Pastry Alliance, Gelato e Cultura S.r.l., and the Italian Exhibition Group Expo S.p.a. – that will take place from October 25th to 28th 2022 at FHA-HoReCa (Singapore Expo). Frozen Art Chef is pleased to give another preview of the Asian Gelato Cup.
1. Hi Chef, tell us about yourself.
I grew up helping my mum in the kitchen. Making good food is part of my DNA. So my family wasn't surprised when I decided to pursue the culinary pathway. I got a Higher Diploma in Hotel Management, specializing in Kitchen at Taylor's College.
After graduating, I wanted my first job to be special, challenging, and able to make me reach a higher level. I am so glad that my interest and commitment have been recognized during the interview process with The Four Seasons Hotel in Singapore in 1999. There I met Chef Cassian Tan, who not only introduced me to the art of ice cream but also showed me what fine desserts are and how to utilize the best ingredients money can buy. I gained practical experience in the day-to-day running of a pastry kitchen. Chef Cassian made me attend pastry demonstrations, and learn how to do R&D; he even booked me a space to assist in the World Pastry Championship. I gained exposure from working with the Four Seasons team (also Chef Terrence has been precious), I felt like I was scaling something beyond my reach very fast. This experience definitely strengthened my foundation, interest, and passion.
Then, I wanted to challenge myself further and I joined The Ritz Carlton in Singapore. At that time, the hotel was renowned as the best one in Singapore, almost a 6* level. It has been exciting working there. In 2002 I decided to move back to Kuala Lumpur, as I had the chance to meet Mr. Alberto Ciaramicolli, who was very passionate about Italian food and gelato and hired me to establish his gelato business in my birthplace. We probably have been the first company with a full set of equipment, strong technical knowledge, and skills to make really good gelato (like the famous ones in Italy) in Malaysia. 
Alberto arranged for me a learning expedition in Italy, a full immersion into the Italian gelato culture. He wanted me to gain the "complete Italian gelato experience". In Italy, I was under the tutelage of gelato master Franco Anastacio. He taught me everything about making gelato in the authentic and traditional Italian way. By "everything" I mean how the batch-freezer works and how to repair it. Mastering the ingredients, rearranging the formulas, R&D to make special flavours etcetera. 
When Alberto decided to retire, I took over the business. He sold me his beloved Carpigiani vertical batch freezer, and it still marks the beginning of my business venture.
I continued to enhance my Gelato making skills on my own. No doubt, my daily schedule was hectic. I never stopped injecting myself with new knowledge so when Carpigiani Gelato University run workshops, I was there to pick up the latest and newest trends in the gelato industry. I also paid a hefty fee to get a one-to-one masterclass with Chef Paolo Capellini, the chemist of the gelato world in Rimini, Italy. 
I am eternally grateful to all my mentors and teachers and their generosity in imparting their knowledge. To give back to society, Idolci Gelato hires hearing-impaired individuals. I hope to inspire and teach them all about gelato. How do I communicate with them? I am proficient in sign language, another one of my passions.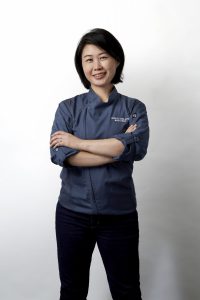 2. When did you start thinking about becoming a Chef? And what does it mean the Asian gelato Cup for you?
If you go back in time and ask the 12-year-old Gigi …I would have told you, with absolute certainty, I wanted to be a chef! 
Taking part in the 2022 Asian Gelato Cup is a dream come true. It has always been on my top list to introduce and maintain the artisan tradition of authentic Italian gelato using local ingredients and this international competition is a powerful opportunity to do that! I immediately took up the challenge and I'm proud to represent Malaysia along with two talented team members.
Chef Allison Chin holds a diploma in Culinary Art and a bachelor's degree in Culinary Management, both obtained at Sunway University. Allison is the proud owner of a 3-year-old dessert shop called Zhwaa. She has a keen eye for detail and is meticulous in her work. Allison garnered top prizes at the 2014 Battle of the Chefs in several of its subcategories such as plated desserts and confectionery display. She became the overall champion and won the Most Outstanding Greenhorn Pastry Chef Award. Behind her gentle demeanor, she has a determined and resilient personality. Allison is 100% tuned with us, prepped to make a mark at the competition.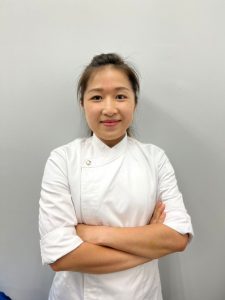 It's also an honor to have Chef Chong Wei Tzeh on the team. Chef Chong graduated from Taylor's College School of Hospitality & Tourism. With almost 20 years of experience in culinary teaching and education, he led many of his students to local and international competitions. Currently, Chef Chong is a lecturer at Sunway University, School of Hospitality & Service Management. Chef Chong already proved to be an invaluable resource in winning top awards during culinary competitions. Here are a few of his accomplishments: in 2012 and 2014 his participation in competitions held at the prestigious Food & Hotel Asia (FHA) brought his team to several top awards in multiple categories. He was the second runner-up in the battle of the 2019 Asian Pastry Chef and in the 2019 Global Chefs Challenge (Asia Selection) held in Bangkok. Chef Chong is a precious asset to the University and an inspiring figure for all his students. He guides young chefs to strive for excellence in the field of culinary art.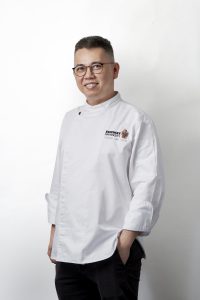 3. What is your opinion about the passion that Malaysia has for Frozen Desserts?
There are many parts of Asia that enjoy summer all year long and I am lucky to be in one of them. Frozen desserts are something we don't mind having from the moment the sun rises and even after the sun sets.
There are so many variations of frozen desserts in Asia with so many different kinds of exotic flavours and not to mention fruits that are unique to each region. We are committed to offering an exciting burst of flavours by combining local ingredients with traditional artisanal gelato-making methods.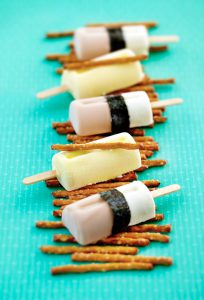 4. Tell us about your relationship with Frozen Desserts. 
It started in the pastry kitchen where we were learning the foundation of cakes, plating etcetera. Everything is interrelated and the foundation of pastry has always been a priority for me. This knowledge helps to understand the characteristic of the ingredients that enable you to create innovative recipes.
Honestly, I feel that Asian frozen desserts are more creative than others, as they cover a wider range of flavours and tastes. Even in culinary arts, thinking about Tom Yum or Penang Laksa, KimChi, Durian Fruit or Stinky Tofu…Malaysia really challenges the taste buds!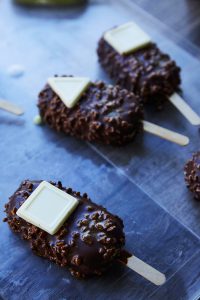 5. Would you share with us one of your famous popsicle recipes?
Sure, I'm pleased to dedicate to the Frozen Art Chef readers my Pandan Gelato Stick recipe. Mix and melt all the ingredients first, batch freeze them and…Enjoy the popsicles!
| | |
| --- | --- |
| PANDAN GELATO | |
| | |
| Milk | 942 gm |
| Whipping Cream 35.1% Fat | 45 gm |
| Skimmed Milk Powder | 10 gm |
| Sugar | 185 gm |
| Fresh Pandan Leaves | 8 gm |
| Dextrose | 38 gm |
| Stabilizer | 22 gm |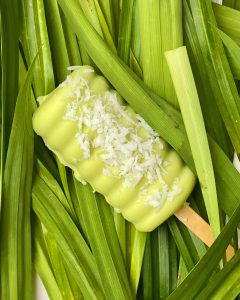 6. Any advice for young students who want to become successful chefs and gelato champions?
When you enroll in a culinary school, you must have an interest and passion in this field. This is the very least, even if not enough.

 

As you embark on this career path you have to be prepared to put in tonnes of hard work, you need to have perseverance and the tenacity to take on challenges. Having the right attitude towards your work as well as the people you work with, will take you far away.
Wish you constantly learn and think out of the box: be creative, be bold.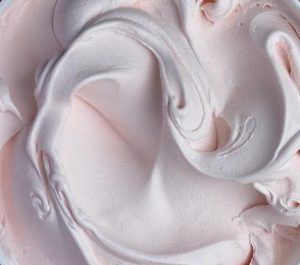 7. Last but not least, do you foresee any frozen dessert trends?
People are becoming more health conscious and well informed. The desserts of the future will cater to a multitude of different dietary requirements. We have been asked to make gelato suitable for Lacto intolerants, people on low GI diets, keto diets, etcetera. 
As we speak my factory is already churning out plant-based gelato in large volumes. 
Furthermore, some customers also want to know if our ingredients originate from sustainable sources. Trends are moving fast, we must keep our finger on the pulse all the time!