Japanese Pastry Chefs are emerging in the contemporary world. The Asian dessert champions are now combining sensitivity, technicality, and new architectural and sensory expressions. 
If sushi, ramen, and gyoza are rich culinary traditions popular around the world, nowadays Japanese pastry chefs are turning towards this Asian cuisine for inspiration as well, combining captivating flavours from Japan with traditional European patisserie. Matcha, for instance, has been at the center of numerous pastry product innovations around the world. But there's more to it. Meet with Frozen Art Chef one of the sweetest creators of the 21st century, Kengo Akabame, "ice specialist" of the Japanese Team who got the silver medal at the 2021 Pastry World Cup with a completely rethought universal identity. At the 16th edition of the prestigious competition held during Sirha Lyon (France), he made a difference under the sign of resilience and creativity. Akabame combined product sourcing, natural flavours, precision, and team spirit for an intense and visionary baking experience.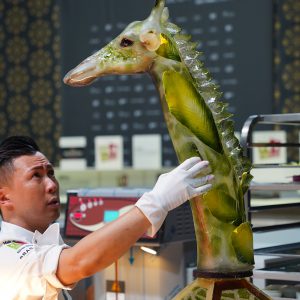 Chef Akabame, tell us more about your ice story.

 
I was born in Tokyo in 1984. When I was in high school, I decided to be a pastry chef because of a television pastry program. I was impressed by seeing the fight for the victory of the Japan Team in the World Pastry Cup in 2007. I immediately decided to master ice carving and ice cream to win the World Cup. Since then, I studied and worked hard and I took part in many contests to hit my final target:  and become a world champion. I started as a Patissier at Murakami Kaishindo in 2003, then in 2005, I became Patissier Concours at Imperial Hotel Tokyo and that's the place that changed my life and taught me the most. I also participated in a Carpigiani Gelato University course to learn the secrets of Italian gelato. From the Gold medal at the 2007 Utsumi Junior Cup to the Gold prize, chocolate art piece, at the 2011 Utsumi Cup, passing through the 1st Prize at the 2015 Showpiece Championship in Atlanta, the All Japan Ice Carving Association's Prize in 2018, the road to the World Pastry Cup has been full of unforgettable emotions and discoveries.
2. What about the passion that the Japanese have for ice cream?
Japanese love ice cream. There are diverse and delicious frozen desserts at convenience stores and thousands of ice cream shops all around Japan. In recent years, Japan has also spread about its expertise in another culinary arena – cakes and pastries -. The country's chefs have taken many of the traditionally "Western" desserts known and loved around the world and elevated them to new heights.  My teammates Seiya Harada, Yuuya Tsukada, and our team president Hiroshi Igarashi showed it a few months ago at the Pastry World Cup. In Japanese sweets making, there is a tendency to incorporate improvements. Japan is good at using local ingredients and expressing the tastes of the season while incorporating Western techniques and combinations, I think that the point of trying to create new things while incorporating (classic methods) leads to further evolution.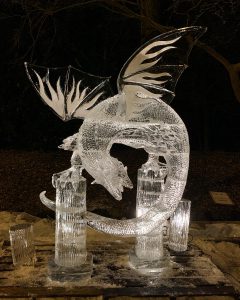 3. Which are the frozen dessert trends now in Tokyo?
Parfaits and plated desserts are getting more popular every day. There are still few shops selling Entremets glacé, but ice cream is rooted in our daily lives and it won't stop trending, can I say that?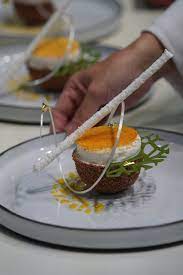 4. Sure! Would you share with us one of your signature ice creations?
It's a pleasure sharing with you the Entremets glacé – Frozen Fruit dessert – Garden recipe, that contributed to letting me achieve the Silver medal at the 2021 Pastry World Cup.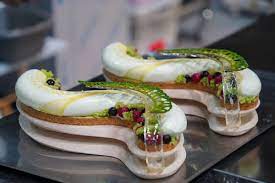 5. Last but not least, please give some advice to young students who want to become successful chefs and champions in Asia.
It is important to have fun and work on it.  Imagine yourself participating in the World Cup and aim for it.