In just thirty days, all the chefs participating in the 2020 Coppa del Mondo della Gelateria (Gelato World Cup) will already be in Italy. Among them, there will also be the 15 members of three Asian National Teams. They will vie for the title on 19-21 January 2020 at Rimini Expo Centre (Italy) during the 41th edition of SIGEP, the renowned International Trade Show of Artisan Gelato, Pastry, Bakery and Coffee.
The teams were chosen at the Asian Gelato Cup, during Food&HotelAsia 2018. The Asian Gelato Cup represented the very first official selection of Coppa del Mondo della Gelateria. Singapore won 1st place, Japan took 2nd place and Malaysia took 3rd place.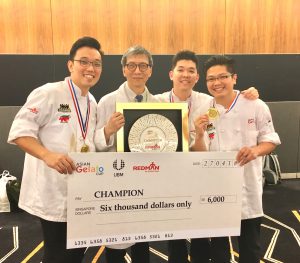 Frozen Art Chef is dedicating exclusive interviews to the three Asian Team Leaders, looking for delicious revelations (and recipes). This month, the Chef in the spotlight is Chee Ng Leong, Singapore's team leader.
With more than 20 years of experience and training (10 of them overseas), Chef Chee Ng Leong is currently the executive pastry chef at St Regis Hotel. Among his various awards and recognitions, there are: the bronze medal at the Mondial Des Arts Sucres 2014 (International Confectionary Arts Competition in Paris, France), the gold medal at the FHA 2012 Gourmet Team Challenge, the gold medal at the Asian Pastry Cup 2008, the At-Sunrice GlobalChef Academy Mentor Chef Award in 2013 and the gold medal at the Hong Kong International Classic 2011, Gourmet Team Challenge.
Curious about his background? Well, his culinary interests began during his school days, after watching French pastry chef Jacque Torres' television series 'Dessert Circus'. He always dreamt of becoming a pastry chef, due to his love for chocolate and his passion for making desserts. Chef Ng Leong loves creating authentic desserts and baking with rich dough. His favourite is (to make desserts) with meringue. He specialises mainly in French pastries. However, he likes to experience different kinds of desserts, especially using local fruit, such as chempedak (the Chempedak fritter at Bedok Interchange inspired him to create a delicious rum-and-raisin chempedak tea cake). He enjoys cooking at home on special occasions for both friends and family. A must is his butter cake, a traditional family recipe. Among Singaporean desserts, his favourite is black glutinous rice with coconut cream (click here for the original gelato recipe), then chempedak pengat and durian pengat.
1.    How do you feel about representing Singapore at Coppa del Mondo della Gelateria?
As a Team, we feel honoured and at the same time excited about what we can bring to this prestigious event.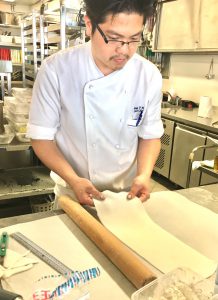 2.    The gelato market in Singapore is growing fast and handcrafted ice cream already has got quite along tradition. Which are the flavours that Singaporeans love most?
Singapore is a melting pot of cultures. We appreciate classic and exotic flavours but if we speak about local favourites, we love the more traditional ones made with palm sugar (Gula Melaka), sesame seeds, lemongrass, pandan leaf… To balance the recipes, a certain amount of sweetener is essential. We do our best to use natural sugars like one that comes from pandan leaf, a flower similar to the blue pea, able to create a natural sweetness in every dessert.
3. Aesthetics are keywords in Singapore. Can you tell us more about the opportunity to include gelato in pastry shops and maybe in the kitchen of stellar restaurants and luxury hotels? 
Gelato is gaining more and more fans here. The trend of eating healthy is getting bigger and our customers are always willing to taste innovative and unique flavours. At St Regis (and not only here) hotel guests have already got the chance to ask for a gelato addition to their menus during wedding receptions, banquets and so on. This request is very popular, it looks like everyone wants to celebrate special occasions with gelato!
4. Which is a trend that you forecast?
As mentioned, Singaporeans appreciate various forms of dessert expression, imagination is the only limit! Due to an increasing demand of high-quality products, customers are happy to spend a decent amount of money in order to have what they are willing for, what can make a difference and contribute to a memorable event or emotion. The market for gelato cakes or frozen mignons offers notable margins of growth and it is a good choice for everyone in F&B and hospitality industry – from pastry shops to high-end restaurants and first-class hotels – anyone who wants to make the business bigger.
5. What you are going to put in the spotlight at Coppa Del Mondo della Gelateria 2020? 
The Singapore team is eager to show what our multicultural nation can present to the world. We live in a so called "Little Red Dot", a cosmopolitan city-state located off the southern tip of the Malay Peninsula where different races, visions, ideas and identities are not only free to co-exist, but also to mingle and blend, to merge and combine. The history of food in Singapore is inextricably linked to the country's immigration history. Our strength is this melting pot. The Singaporean culture boasts the combination of Asian and European cultures, which are influenced by Malay, South Asian, East Asian and Eurasian cultures to which we are exposed. We will show this creative pluralism in the menu that we will present.
As the team is not training full-time due to work commitments, the preparation to the Coppa del Mondo della Gelateria is done whenever is possible. Luckily Singapore is not so big. We are doing the best to go the extra mile, it's our passion.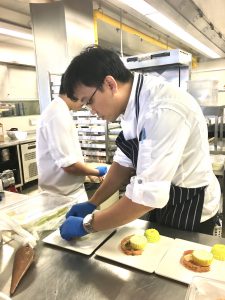 6. Singapore has already been represented at the 2016 Coppa del Mondo della Gelateria, the result was already impressive. What do you wish to your team and to the other participants?
As always, I feel proud and at the same time loaded with emotions to defend the colours of my country. As a team leader, I can't be in the kitchen to work with my people but we are tuned and committed to work towards sharing the best team spirit. I wish everybody to enjoy this cool event and learn from each other. Singapore team will always aim to do well, of course. We want to improve our skills as professionals, a chef's education never ends. We are also willing to contribute in making our nation's prestige grow bigger. Making new friendships with fellow competitors is also part of our nation's objectives. The world is so big and full of inspirations. 
7. Have you already been to Italy?
I have not been to this part of Europe, even if I was a gelato-chef 15 years ago. I used to make gelato for a chain of Italian restaurants based in Singapore.
Coppa del Mondo della Gelateria is giving me the opportunity to see the birthplace of gelato, I'm very excited about it and I can't wait to taste gelatos and sorbets in Rimini. Competitions of its kind offer new points of view and push the boundaries. The new generation of pastry chefs needs to learn more about the art of gelato making.
8. What advice would you give to young aspiring pastry chefs?
Feed your passion. Love your cooking and baking traditions and never stop experimenting. When the journey gets tough, do not give up easily and always do your best in everything you do. Passion and perseverance will make you succeed.