The countdown for the 2020 Coppa del Mondo della Gelateria (Gelato World Cup) has started. Three Asian National Teams will vie for the title on 19-21 January 2020 at Rimini Expo Centre (Italy) during the 41th edition of SIGEP, the renowned International Trade Show of Artisan Gelato, Pastry, Bakery and Coffee.
The teams were chosen at the Asian Gelato Cup, during Food&HotelAsia 2018. The Asian Gelato Cup represented the very first official selection of Coppa del Mondo della Gelateria. Singapore won 1st place, Japan took 2nd place and Malaysia took 3rd place.
In the next three issues, Frozen Art Chef will dedicate exclusive interviews to the three Asian Team Leaders, looking for delicious revelations (and recipes)!
The first Chef in the spotlight is Kanjiro Mochizuki, Japan's team leader.
Chef Kanjiro Mochizuki is a world-famous executive Pastry Chef. He's also a Master at noted International culinary schools. Chef Mochizuki started his career in Japan after finishing high school at the Imperial Hotel of Tokyo. He spent some time in the US, and in 2010, he was nominated Best Pastry Chef in USA. At the World Pastry Team Championships in 2002, Chef Mochizuki won the award for Best Sugar Showpiece before serving in the Japanese team at the same competition in 2010. In 2015 and 2017, he served as Japanese team leader at the Junior Pastry World Cup at Sigep (Rimini, Italy), and his team earned 1st place. In 2016, he served as the Japanese team leader at the Pastry Queen competition at Sigep (Rimini, Italy) and his team earned 2nd place. He has credentials that are tough to beat for any Asian pastry chef.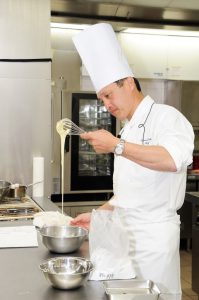 1. Chef Mochizuki, in previous years, other Japanese teams participated at Coppa del Mondo della Gelateria. How do you feel about representing Japan in the 2020 edition?
I have experience in competing at international pastry competitions such as La Coupe du Monde de la Patisserie in France and WPTC (World Pastry Championship) in the US, but this is the first time at Coppa del Mondo della Gelateria and I am truly excited to participate. I am doing my best to train my team for excellency. We are proud to represent Japan and we are all putting a lot of effort and passion into the preparation for the competition.
2. The gelato market in Japan is mature and it has a long tradition. Japan represents today the biggest market in Asia. Which are the flavours that Japanese customers love the most?
In Japan, we love eating creamy flavours. They range from custard cream to chocolate, from matcha to black sesame, or even include red bean, snowflake and variegated flavours of any kind – ideally enriched with local ingredients. An exceptional taste is fundamental for us. For example, we decided to use mascarpone in many of our recipes in order to get a creamier gelato (we are pleased to share with you the original Mascarpone Strawberry Lime Gelato recipe realized by the Japanese team #CMG2020). Japanese people do not have a sweet tooth, so we prefer to use Trehalose (kind of inverted sugar) to reduce sweetness.
3. Nowadays the fusion between gelato and pastry art is strong. In Japan, presentation is very important. Please, tell us more about it.
European influenced gelato-pastry creations have always been popular in Japan. What French and Italian Pastry Chefs did, already fifty years ago, inspired us and we still work hard to deliver to our clients the same excellence, maybe adding an oriental twist. Many first-class pastry shops and luxury Hotels in Tokyo, Osaka and Yokohama already produce and sell frozen desserts that combine eastern and western characteristics. Various pastry chefs started selling gelatos and sorbets at their shops years ago. But it's not enough. It's time to innovate. We are reinventing and re-balancing our gelato-pastry creations more than we have ever done in the past. Gelato allows us to create unique flavours and the contrast between hot and cold is fundamental for delivering unforgettable sensations to the palate. Some pastry chefs already have started selling gelato at their shops.
4. Which FrozenArt trend do you forecast?
Gourmet gelato. It has a huge potential in Japan, the market is ready, and our clients are awaiting for it.
5. A preview of what you are going to put in the spotlight at Coppa Del Mondo della Gelateria 2020?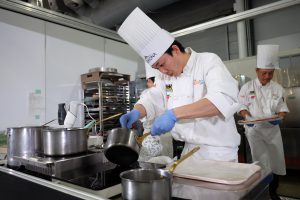 It is our first time at the competition, so we are focusing in developing gelatos, gelato cakes and gourmet gelatos characterized by perfect taste, structure and consistency. The artistic work is also important, but the quality comes first.
6. A recommendation to all the teams participating to Coppa del Mondo della Gelateria 2020?
The criteria of rules and preferences of taste differ from country to country. Be ready to find the best way to follow the rules and respect your uniqueness. Adjust the taste with a smart approach, as the judges come from all over the world.
7. How do you think gelato will evolve in Asia?
I have visited Italy almost every year since 2013. I strongly believe that the gelato business will expand more and more in the next years all around Asia.
Japanese people are getting tired of eating only French-style pastries at teatime. Gelato has all the qualities to boom among the Japanese society, and not only in Japan but all over Asia.
Thank you, Chef Kanjiro! Dear Frozen Art Chef lovers, download here the divine Mascarpone Strawberry Lime Gelato Recipe created by the #CMG2020 Official Japanese Team and never stop searching the perfect taste!
Domo Arigato.