The second edition of the Asian Gelato Cup will begin in just a few days in Singapore, supported by the Singapore Pastry Alliance, Gelato e Cultura S.r.l., and the Italian Exhibition Group Expo S.p.a. –.
If you are planning to be at  FHA-HoReCa (Singapore Expo), save the date! 
The 2022 Asian Gelato Cup will take place on October 27th-28th, 2022 (Hall 3 and Hall 6), and 6 Asian teams (Singapore, Malaysia, Indonesia, the Philippines, Korea, and Chinese Taipei) are ready to create the best gelatos, plated desserts, gelato cakes, and artistic showpieces ever!
"Finally the race is back and it's a pleasure to be the Head Judge – says Chef Sergio Dondoli, Gelato World Cup's Vice President, who just landed from Italy. This competition heightens the tradition of artisan gelato in Asia, with the primary goal of developing the professional skills of the gelato, dessert, and pastry chefs in the region whilst igniting creativity and interest in gelato making. We look forward to inviting the top two performing teams to the prestigious 2024 Gelato World Cup in Rimini, Italy".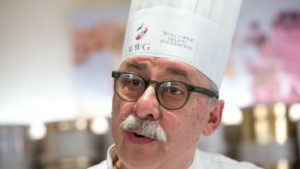 Frozen Art Chef is pleased to introduce you to the Team Captain of the Chinese Taipei Team, Bella Chiang.  She's training hard with her team members to take part in the second edition of this cool biennial competition. Discover her vision and strategy!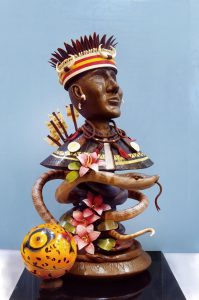 1. Hi Chef, tell us more about your team.
We are all in Generation Z! Our team is composed of students from the Department of Food and Baking, and I am personally a research and development trainer. We have been chosen specifically considering our passion for cakes, gelato, and coffee making.
In our country, pastry art is highly developed and the potential of frozen desserts and ice cream is very high. In recent years, Italian Gelato has been strongly promoted on campus and it's getting very popular in cafes and restaurants around Taipei. We are thrilled about having the possibility to compete with experts and bring our vision to the Asian Gelato Cup.
We do our best to emphasize the use of fresh ingredients and professional manufacturing equipment to make delicious, healthy, and delicate Italian gelato and frozen desserts, with an Asian touch.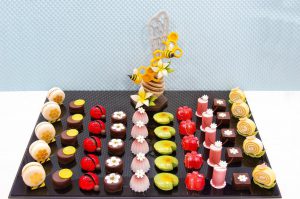 After entering the University, I was exposed to ice cream making in various courses and I began to be very interested and thoughtful about the technology of ice cream. Combining cakes with ice cream is the current and future market trend. I'm confident that this competition will give us the opportunity to practice our own ideas, go the extra mile and contribute to the growth of the frozen dessert market in China.
2. Who are your team members at the 2022 Asian Gelato Cup?
Yu-Xei Xu is a passionate chef. In high school, she started studying in the catering department, then – while at College – she chose to get a specialization in baking. During her college years, she participated in many competitions and accumulated experience and practical ability.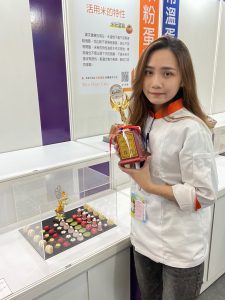 Yu-Xi Huang was a hardworking contestant in high school. She especially enjoyed the process of competition, so she continued to participate in contests and championships. When she entered college, she had a bigger stage to show her personal style, and she started loving to transform imaginary pictures into chocolate and candy masterpieces. She aims to constantly improve herself through competitions. She has already participated in many races in the past 4 years and she has also participated in the Asian Gelato Cup in 2018.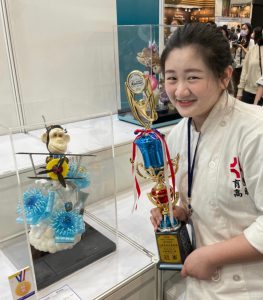 3. What is your opinion about the passion that Asia has for Frozen Desserts?
It is big and still at an early stage here. Our culture enforces innovation and creativity, we love to bring our own ingredients and pastry styles into the gelato-making processes. The level of sweetness is very important to us and we will work with sugars in order to have a perfect balance of sweetness, consistency, and taste. As for the regulations and rules, we will create gelatos, cakes, and plated desserts that stick to the tropical rainforest theme. Don't be surprised if you see a green frog in the spotlight in our Grand Buffet display. All our decorations will also adopt shapes and flavors that refer to the tropical rainforest environment. In addition to the integration of tropical elements, cakes, plate decorations, and gastronomic gelatos will also incorporate many of our national excellences, such as salty mango dice. We will be including exclusive fragrances; mango is a very popular fruit in Taiwan and we want to make the taste buds of the judges feel it at its best. The plates will be decorated with a fruity tone to add Taiwanese tea scents because fruit and tea are deeply rooted in Taiwanese traditional culture.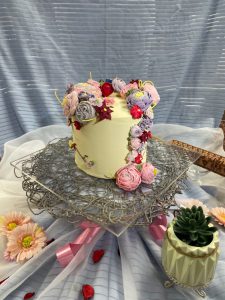 4. What is your relationship with Frozen Desserts?
Frozen desserts stimulate my creativity: they are beautiful and offer a new food experience to the customers. Frozen desserts are not part of traditional Chinese culture, so people are curious about them but they still have to find the best way to include them in their daily habits. People are open-minded here but we are doing our best to make them discover frozen desserts by using local ingredients, so they can get a familiar taste. In the Taipei area, people ask for delicious food, healthy recipes, and peace of mind. These are our three most important market trends.
Let me add that in Asia, for the sake of good health, governments are gradually demanding a reduced sweetness of pastries and ice cream. When Chinese people choose a dessert, they are extremely cautious about the glycemic index. A Low Glycemic Index is imperative here.
Therefore, it is one of our chef's tasks to make low-sugar products. We also have to reduce fat and try not to compromise the final taste. In the research and development of innovative and healthy pastries and ice cream that use local ingredients, the level of sweetness is low if compared to European standards.
On common ground, gelatos and pastries or bread are always a perfect match, no doubt!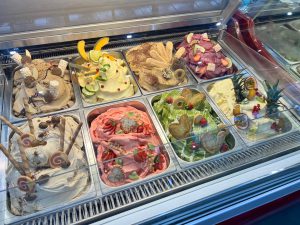 5. Any advice for young students who want to become successful chefs and champions in your country?
Enthusiasm, ideals, and perseverance are the three keywords.
Learn eagerly when you are a student, accumulate experience through competitions, and never stop paying attention to experts, stellar chefs, and market preferences. Your own future and development depend on these. Listen to the people, keep your eyes wide open, and try and learn. Then you'll become a never-ending successful chef.