In 2021, when the Covid-Pandemic was at its peak, the celebrated Dessert Chef Janice Wong opened her first Softhaus Ice Cream Store in Singapore. A multi-sensory experience driven by the idea of togetherness, with the mission to be a "happy and healthy place for people", as Janice decided to offer keto-friendly and plant-based flavours (from tangy mango-banana-passionfruit and coconut lime to chocolate sorbet, pear thyme honey eucalyptus and roasted pistachio ice cream).
From 2am: dessert bar in Holland Village (2007), a shop focusing on the pastry as art and described as "interactive, edible art", to multiple projects and openings in Melbourne, Tokyo, Macau, the appearance in Masterchef Australia season 7, many innovative cookbooks, her eponymous sweet concept brand "Janice Wong: Pure Imagination", the title of Pastry Chef of the Year from the World Gourmet Summit Awards in 2011, 2013, and 2015, the "Asia's Best Pastry Chef" award from Restaurant magazine in 2013 and 2014, the Singaporean pastry chef (born in 1983) also represented her country in Korea as an ambassador of culture and arts and is unstoppable.
Ever dreamed of not only surrounding but immersing yourself in all whimsical, sweet, and guilt-free frozen desserts? Frozen Art Chef decided to interview Janice Wong and ask her how Softhaus is doing after 9 months of ice cream euphoria for all.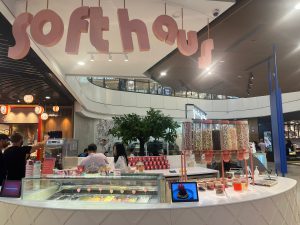 1.
Chef Janice, tell us how it all started.
Ice cream was a part of my childhood and to me, it means happiness. I grew up in Japan so I had my first ice cream there. I absolutely love Hokkaido's milk ice cream, it's very creamy and delicious! Speaking about my educational pathway, I studied economics at the National University of Singapore and graduated in 2006. I later enrolled in Le Cordon Bleu in Paris. I was impressed by what Ferran Adrià and Grant Achatz were doing. After 14 years in business, and pushing myself to innovate even as the industry was unsteady, one year ago I felt like it was the right time to introduce a new concept, which in many ways highlights the evolution of my brand. Supported by my new partners at Vertex Ventures SEA, I have the goal of bringing the Softhaus experience to people all over the world, sharing the joy, one ice cream at a time.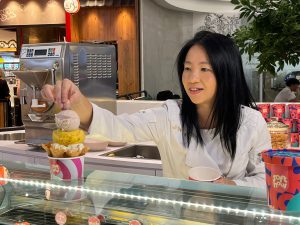 2. Would you like to describe the SoftHaus experience?
For me, as already said, while growing up, ice cream has always been synonymous with fun and enjoyment. So, I wanted to build a wonderland for all, both adults and children. My clients can live out their dessert dreams in real life. The leitmotif is "tap into your imagination to create and enjoy ice cream". For grown-ups especially, I hope that Softhaus can bring back childhood memories and the simple joy of savouring a good ice cream. I decided that Softhaus best embodied what we were trying to achieve. "Soft" resonates with the creamy texture of the ice cream we serve; "house" points to the space we're trying to build where guests can find a place to create desserts of their own and enjoy them. To evoke instant joy from the moment people step into the store, its walls are wrapped in pastel pink and cream-yellow with splashes of bright red, turquoise, and cobalt. To create a more inclusive menu and cater to a wide range of dietary requirements, we included 8 keto-friendly and 7 plant-based flavours. That was quite a challenge, as ice cream is typically known for its high sugar and high-fat content. I had to refer to Italian gelato and sorbet instead. One of our keto-friendly flavours is Roasted Pistachio, for which we worked with sugar substitutes. The simplicity and elegance of pistachio ice cream is already quite difficult to capture, so nailing the perfect flavour became a bit trickier. I'm very proud that we achieved it. Furthermore, my clients also have the option of adding on an array of 20 toppings and inclusions, like freshly baked macarons, crunchy popcorn, and handmade chocolates. They can get creative with custom creations available in a waffle cone, cup, or sandwiched between fluffy, rainbow-colored bread – just like those dollar ice cream sandwiches we Singaporeans dearly love.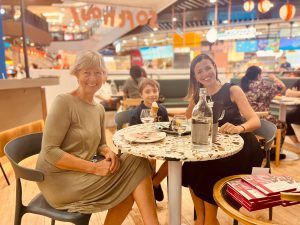 3. It really sounds like futuristic edible-art.
Ice cream means joy, and it's not just a guilty pleasure: now I make ice cream and gelato for a living, and I understand that there's an art behind its creation. The process of making gelato is anything but simple. We make all of our ice cream in small fresh batches and in-house. This allows us to test new flavours every week, all sustainable. At Softhaus, we place extreme importance and care on the ingredients used. For example, our chocolate is from Colombia, and the vanilla and coffee flavours are derived from single-origin herbs and spices. This makes for a more ethical production process; as we have complete control of our sources, we can be transparent with customers. Single-origin ingredients also better support farmers and providers of goods by allowing them to secure fairer prices. Better yet, these ingredients give our ice cream more distinctive and nuanced flavours. The Carpigiani technology we use guarantees perfect gelato every time and yes, I'm continuing my digital transformation in the F&B scene. Softhaus has incorporated fun digital motion and animation into its food retail experience. We have also developed our very own curated mobile check-out page to keep the lines moving in a more seamless manner.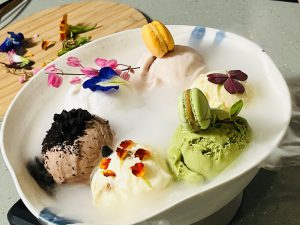 4. What is your relationship with ice cream?
Ice Cream was one of my first loves. Choosing my favourite flavour is…hard! I use ice cream in my desserts too. I wanted my ice cream indulgent and healthy at the same time. Our chocolate gelato is keto-friendly, and we also have plant-based flavours which don't sacrifice flavour.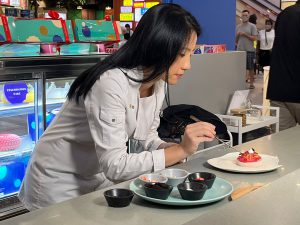 5. And your next step?
I'm going to Europe for a thrilling business trip and to get additional knowledge. Stay tuned, and don't stop imagining soft!