In Indonesia (and not only) almost every pastry chef has a point of reference: Louis Tanuhadi.
This extremely kind and professional chef is actually the Director and Executive Pastry Chef at the Academy of Pastry & Culinary Arts Indonesia, the secretary general of the Indonesia Pastry Alliance as well as an Ambassador for Embassy Chocolate. He has been the Captain at the very first Asian Gelato Cup at Food&Hotel Asia (FHA) in Singapore, representing Indonesia. He recently started running gelato courses in collaboration with Carpigiani Gelato University. 
Frozen Art Chef is pleased to ask him what's behind his frozen dessert success in Indonesia.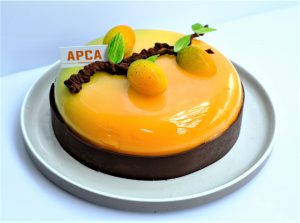 1. Chef Louis, how did your passion for pastry and frozen art begin?
It started a long time ago, as I'm 53 years old now. I was intrigued by the world of pastry from a young age as my father was a baker. I grew up and studied the basic techniques and of pastry and bakery on my own. I have been an independent self-learner, as the European pastry schools were very far and expensive for me at that time.
In the early 90's, I worked for an important German baking ingredients company and I had the opportunity to do an internship at the Hollandische Kakao-Stube Hannover Germany. I'm grateful about this experience, as it allowed me to gain more knowledge about European pastry Art. I also studied at the Ecole Lenotre and the Ecole Bellouet Conseil in France.
I immediately felt deeply in love with the world of chocolate, so I decided to focus more on it and become a chocolate and pastry professional rather than continuing with bakery. 
2. What did you do in order to make your dream come true? 
In 2000, I joined an Indonesian chocolate company which allowed me to develop my expertise in chocolate, and it even gave me the opportunity to innovate and share my knowledge in the Asia Pacific region. I periodically visited various Asian countries as a business consultant to launch and support bakeries and pastry shops. My knowledge grew, and I was able to gain new knowledge and unique touches in every country I visited. Let me thank my clients (many of them became friends after that) for the opportunity to share knowledge and passion. I also had the opportunity to be trusted by the Indonesian Chocolate and Cocoa Association as a consultant in 2012 – 2018 in various events carried out by the association. 
3) Your reputation comes before you. You are running a culinary/pastry and gelato school in Jakarta now, right? 
I'm dedicating all my energies and the most of my time to educating young Indonesian chefs at the school I founded in 2019. The Academy of Pastry & Culinary Arts Indonesia (APCA Indonesia) is my beloved creature. APCA is a multi-national educational institution headquartered in Malaysia. I believe it was time for me to share and transfer the experience I have to the younger generation, both in terms of knowledge and expertise, as well as in terms of participating in competitions held both domestically and in various countries. 
As secretary general of the Indonesia Pastry Alliance, I will uphold my responsibility. 
4) What about your relationship with Frozen Desserts?
Gelato immediately attracted me when I was living in Canada (I started there a few months around 1997). I enjoyed the quality and the unicity of gelato there, so I began to see gelato as a promising business product for Indonesia. Around 2003, I began to incorporate elements of gelato into my pastry creations. I started with gelato cakes, at that time not many people were fond of the idea, ice cream dominated the market and was served per serving, served in glasses and are not meant to be enjoyed together. But I was right and the recent trends show that.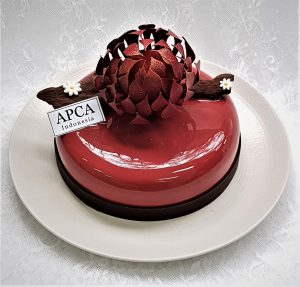 5) Are Gelato and Pastry Art getting increasingly popular in Indonesia? 
You bet. Not only Ice Cream Cakes are very popular in Indonesia – there are several Ice Cream companies that produce them – but these products are only made by industrial companies. Young artisans are making a difference, they are more inclined to make gelato as they are more focused on quality and they want to offer an Asian based and imaginative variety of flavours. This market is very big and it still has great potential in Indonesia.
The growth of gelato cafes in Indonesia has been rapid, and I see almost all of them are successful, gelato cafes have become a hangout place for young people as an alternative to coffee shops.
6) What's the key to success for young players in the gelato business? 
The young generations have to play bravely, be original and always put quality first! The millennials and the Z Generation are more receptive to classic European flavours such as pistachio, almond and even blue cheese, whereas the older generation are not fans of it.
The climate in Indonesia is relatively hot and humid, so let me also recommend to always pay attention to the composition of the right recipe in making gelato. It can't be the same method and ingredients famous Italian gelatieri use in Italy, where the climate tends to be cooler than Indonesia. We have to adjust the ingredients, such as the composition of sugars. Sugars have to be a little bit lower or the addition of sugar substitutes such as dextrose or glucose powder will create a smoother and creamier end result. Your "balance" shall add body and stability, making your gelato more resistant to melting and refreezing.
The use of fruits that are high in fibre is also recommended if you want to make fruit gelato and sorbets.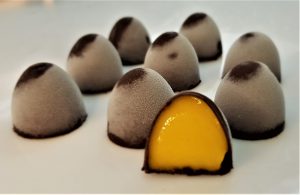 6) Which are the 5 top frozen dessert trends you see now?
Currently, the most popular trend in Indonesia is the combination of various local and modern foods/pastry products, such as French Entremets and traditional Indonesian flavours. Likewise, gelato is boldly displayed, using delicious local ingredients and fruit.
The new & old trends that can always attract the attention of local customers in Indonesia are:
Classic local food, turned into a product of modern pastry art and gelato (eg. Pineapple Cake, Onde-Onde Cake…)
The usage of local flavoured ingredients (eg. nutmeg, lemongrass, eagle flower, pandan leaves…)
The usage of local fruits (mango steam, jackfruit, mango gedong…)
Menu for sharing, but for one bite, not to be enjoyed together in one container (eg. Gelato bonbon)
Classic international menus (rum raisin, choco-chips mint, strawberry, dark chocolate…)
Gelato with local strengths in both taste and ingredients will keep booming and it will be a top choice by gelato connoisseurs in the future. Uniqueness will make a difference.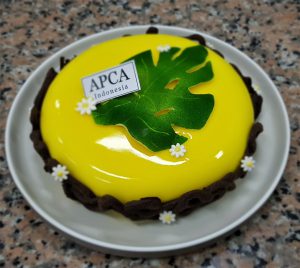 7) Where did you learn Gelato Art? Have you been to Italy many times? 
My knowledge of gelato is due to my experience and the friendship with awesome international gelato masters. Of course, at a certain point I wanted to deepen my expertise of gelato directly from learning in Italy.
The last time I had the opportunity to visit Italy – that is a 'gelato paradise" – was in 2018. Italy is one of my preferred countries for culture, food, wine and definitely gelato!
8) An advice for hungry young Frozen Art Chefs?
In APCA Indonesia, I teach my students to be always creative with quality materials, including equipment; Carpigiani is the only gelato machine I can trust my students to use.
With first-class quality materials and equipment, students can work on Frozen Desserts products, both in the pastry sector; desserts and entremets will be exceptional in this way.
What I keep saying to my students? Never compromise on quality, both ingredients and equipment shall allow you to offer the best output and always stay humble, learn from everyone. Never stop learning.
9) Please share with us some of your bestsellers. 
With the basis of my chocolate and pastry expertise, I like to combine chocolate and gelato into a pastry product that can be enjoyed as a whole.
I'll share with all the Frozen Art Chef readers the gelato products I recently created: they have local ingredients and are fun to enjoy together:
2. Jackfruit Cendol Gelato Chocolate Bar
Moreover, Frozen Art Chef is pleased to invite you to become for FREE a member of Carpigiani Gelato Pastry University, the exclusive gelato pastry platform which enables professional chefs to be in touch and get the most updated information, invitations and networking opportunities. You can just include the promo-code CARPIGIANINETWORK when registering on-line. This offer is valid for a limited time only.