Alain Devahive, Chef and co-founder of Olivia Restaurant & Lounge, Singapore's famous Catalan restaurant in Keong Saik Road, keeps enhancing his culinary experience with Ferran Adrià, and never stops impressing by offering a slice of Barcelona through fine dining masterpieces.
This Spanish chef's portfolio includes a decade-long tenure in the legendary three-Michelin-starred elBulli, trailblazer in the molecular gastronomy world. Now not only is he the mastermind behind Olivia Restaurant & Lounge, but now he also wants to materialise one of his sweetest pastry dreams.
1. Chef Alain, first of all tell us more about you.
I am 47 years old. My maternal family is Spanish and on my father's side, my family is of Belgian origin. Both families had a common denominator during my childhood: passion for gastronomy and devotion for the ritual of meeting at the table, sharing and enjoying. I developed this passion for gastronomy very early, cooking with my grandmother and observing the pleasure that people gave off eating and enjoying themselves. During my youth, I studied high school and finally entered hospitality school and I specialised in gastronomy, which was what I really liked. During my studies at the hospitality school, I did several trainings at the elBulli restaurant (1994-95) and when I finished school I began to work with them permanently. I worked my way up from apprentice to head chef, and I also worked in the restaurant's catering arm. Before arriving in Singapore, I worked in other restaurants in Spain and France. I also held many courses and demonstrations around the world, showcasing the newest techniques developed at elBulli.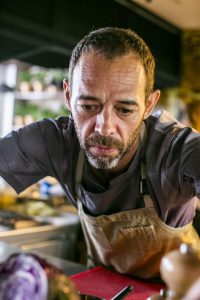 In 2012, we opened the Catalunya restaurant in Singapore and in 2013 in Hong Kong. It was a successful operation and it also contributed to the dissemination of both gastronomy and Spanish culture. Many professionals participated in this project and we understood that if we wanted to offer the real Catalan gastronomic experience, we had to do it by meticulously taking care of all the details: from kitchen and service to decoration, uniforms and relationships with the client.
Olivia is the tribute to my daughter, without a doubt the best thing that has happened to me in my life. Olivia is a personal project that appears at a time when in Singapore there is already a wide knowledge of Spanish gastronomy. We have covered all the details to make it a consistent and true concept. At Olivia, we make a seemingly simple gastronomy that involves many previous preparations and the best product we can find. There is a very important premise in my way of understanding gastronomy, quality in all aspects is not an option, it is an obligation and a responsibility.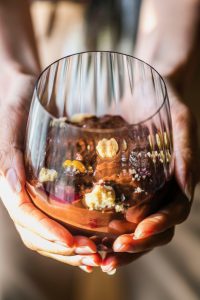 2. What about Singapore's passion for Spanish Food? 
Singapore is one of the world's most renowned cosmopolitan hubs with a strong food culture. It offered the crucial stability, international exposure and convenience that helped us open a dining destination of its own. We wanted to offer a deeper understanding of what Catalan cooking is really about. It's a lot more than just tapas and we're really excited to see more people appreciating our creations.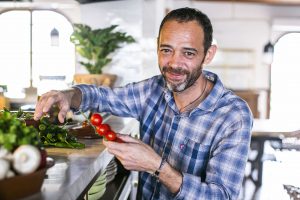 3. What's your biggest takeaway from your experience with Ferran Adrià?
"All clients are equally important and no one deserves preferential treatment". It is a learning I hold to heart and the reason why I wanted my restaurant to be a place that welcomes everyone like family with open arms. During the 10 years I was with him, most of my time was spent with the famed restaurant's food research laboratory team called elBullitaller. It was an incredibly rewarding and eye-opening experience. Chef Ferran Adrià is also a mentor in terms of shaping my perception of what food can achieve. He is someone who dares to break expectations of what food can be, by being inventive and taking risks. He is unafraid to explore the seemingly infinite avenues on where quality ingredients can go. Ferran taught me that, with rigour, there are no real boundaries to our expression as chefs. Our talent lies in our tradition, our taste buds, and our ability to translate these heartful lessons from our childhood and past into every dish we serve. One of the biggest takeaways has to be the unique set of skills and inventive cooking techniques gained from working at elBulli – all of which are now being incorporated into every dish at Olivia Restaurant & Lounge. We strike a balance between molecular gastronomy and play on textures, while still remaining approachable and unpretentious. By combining traditional cooking methods with contemporary touches, the food served at Olivia Restaurant & Lounge is a modern twist on home-style cooking.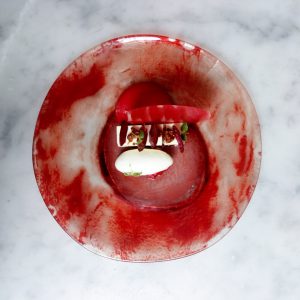 3. Has the fine dining scene in Singapore changed since you came the first time, in 2012?
The World's 50 Best Restaurants was hosted here in 2019, it certainly speaks volumes for Singapore's status as a global dining destination. Since the time I moved here, the restaurant industry has become more vibrant and there's increased appreciation towards international cuisines, whether from the fine dining scene or not. This allows for concepts like Olivia Restaurant & Lounge to enter the market with a compelling proposition without appearing too intimidating. Also, as competition heats up, different restaurants are pushing boundaries to stay agile, so it's an interesting space to watch.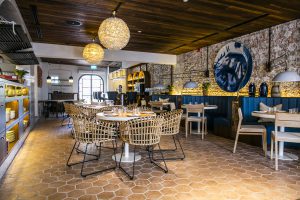 4. What about your relationship with Frozen Desserts?
The technique and texture of gelato within both the cooking and pastry disciplines is very important. I was fortunate to be able to learn a little about the art of gelato with an excellent professional, Angelo Corvitto. He introduced me to the technique but above all he taught me to understand it and perhaps most importantly, he transmitted me an enormous passion for this art. It is difficult to imagine gastronomy without ice cream and today, they are present in any gastronomic concept all over the world. Ice creams are a discipline in itself, very technical, precise, exciting and magical.
We at Olivia always conceive desserts associated with gelato. I think there is no better way to end a meal with a good dessert, appetising, sweet and with nuances of different flavours, textures and temperatures.
Singapore is a country with a rich and extensive gastronomic culture. I think he is a client with a lot of knowledge and experience which makes him demanding. I think it is very positive to have a demanding client that somehow forces you to improve yourself every day and never let your guard down. He is a very grateful and loyal customer if you meet his expectations. Of course, as good foodies, they melt like ice cream for a good dessert.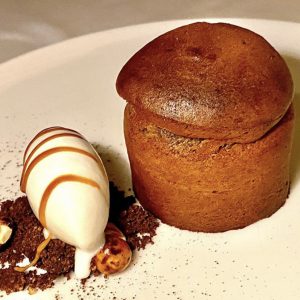 6. An advice for young students who want to become successful chefs in Asia?
To be a good professional in any profession, several ingredients must coexist for the recipe to be a success. You have to be humble, curious, passionate, analytical and very self-sacrificing. I do not think that the current way of treating the profession of cook or pastry chef by the media, is the correct one. Our profession is, of course, a victim of the same disease as societies, the rush and anxiety of reaching goals too quickly. This is a long-term profession and in which you never stop learning, when you want to run too much, you end up burning.
In the next months, I'll start a new sweet one-of-a-kind project in Singapore. Let me just give Frozen Art Chef readers a preview. Olivia's desserts – especially our cheesecake- are becoming bestsellers and we are ready for a revolution in this sense. I'm testing recipes with the Carpigiani Freeze&Go now. Frozen Art will definitely play a big role in this new business adventure.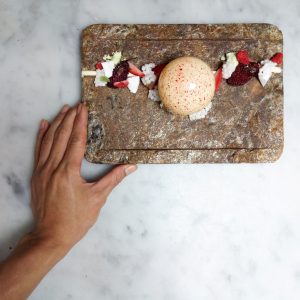 Dear Frozen Art Lovers, stay tuned!
Chef Alain promised us to share with us an exclusive recipe related to his new sweet adventure in the next months!