Pure white textures, whales and shells all around, as relaxing and refreshing as wandering in the ocean. It's the feeling you have when entering "L.Z. Dessart", a unique dessert shop located near Qinmei Green Park Road in Taichung, Taipei. Surrounded by oneiric sea elements and reminiscences, you'll discover that every dessert displayed in the glass cabinet is a masterpiece of painstaking work.
Frozen Art Chef is glad to interview the founder of this one-of-a-kind patisserie, Li Che Chen, the Taiwanese chef who also won the 2014 Global Pastry Chefs Challenge. Anything could be an inspiration to his next "frameless" creation. Chef Chen is able to decompose things we're familiar with and reconstruct them with innovative techniques. He takes pastry art to the most incisive level. Every piece of art by Chef Chen breaks the fundamental knowledge we have and, moreover, it represents a perfect balance between art and pastry. Would you like to discover more?
First of all, let me translate here what Chef Chen highlighted in L.Z. Dessart, Stressedesserts, starting from the concept that Desserts and Arts are integrated into a unique discipline and all his creations are the result of hard work.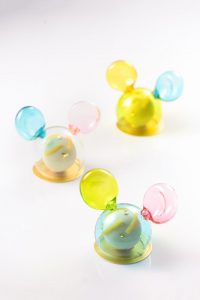 1460 days, sinking and brewing in the blue.
What emerges are the lines presented in my ultimate works, with their meticulous proportions, and the artworks that aim to be tasted and made to perfection.
I have tested all kinds of flavours before finding the sweetness of life at the origins.
Have you ever climbed to the top of the world, only to find that the greatest pride comes from your shallow smile?
Do you know that your bite is the life of a pastry chef?
What you experience here are not French macarons nor Italian tiramisù. Taste without boundaries, think without frames. Use pure ingredients to achieve the most satisfying taste. This is "Wen ㄟ Sweet Road".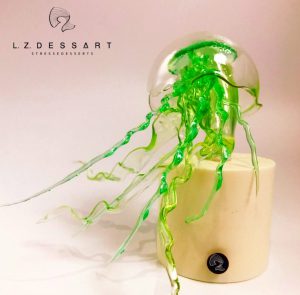 1. Chef Chen, tell us more about L.Z. Dessart.
Both my shop decorations and the logo are inspired by my "Deep Ocean Blue Painting" champion work (2014), I love to impress my customers with the excellence of delicate French desserts and a never-ending experimentation of new tastes and shapes. I give my works original aspects by constantly adding creative ways of thinking. My specialties are hand-made chocolates and chocolate art showpieces, and I recently added gelato and frozen desserts to the menu as I wanted new cool additions. Art is life: I'm inspired by scenes, objects and materials that I run into during my own daily experiences. My Nautilus chocolate gift box is filled with a fish-shaped chocolate that I spent two years designing and developing. It takes five working days from filling and moulding to completion, deliberately combining completely different tastes. The ganache of the flavour creates a knocking effect. With the right proportion of the shell and the filling, you can feel a unique crisp outside and slippery inside. My Crimson – a pistachio cake with caramel rose mousse and wild berry chocolate mousse – aims to become the focus of your eye. The top of my red mirror cake body and its blooming rose petals are made of chocolate and maltose. It's hand-kneaded piece by piece and decorated with "Chao Lu" syrup.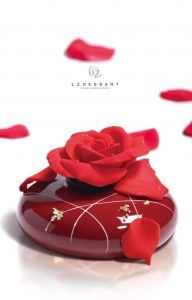 2. The beauty of your dessert-art is breath-taking. How did your passion for pastry start?
I studied at the National Feng-Shan Senior Commercial & Industrial Vocational School, culinary department. I was intrigued by pastry since I was able to appreciate the meaning of art. After graduating, I began to work in a traditional pastry shop to learn from scratch. I was the first to arrive at the store in the morning and the last to leave in the evening. I worked more hours than others to finish preparing the ingredients, to have the chance to ask more questions to the chefs and practice on my own. Two words influenced me at the most: 勤操 (=practice hard). "Practice perfection" is my mantra. I aim to be the best I can be. To attain the perfection I wanted, I started practicing over and over until it became a habit. Everything you choose to touch has a set of rules to follow, you have to practice those rules perfectly. To do something perfectly, you need to be disciplined enough to stick to the rules. I worked as R&D Chef at Sugar & Spice, Pastry Chef at Oriss Bakery and Executive Chef at the Brownie Bakery Restaurant. In 2010, I was awarded the Silver Medal Award representing Taiwan at the Asian Pastry Cup, in Singapore. In 2011, my Taiwan team was given the Best Representative Team award at the Coupe du Monde de la Patisserie, in Lyon. In 2013, I received the Gold Medal Award of Pastry Centrepiece Decoration at the Hong Kong Global Pastry Chef Competition and in 2014, I won the Global Pastry Chef Challenge. Then I founded L.Z. Dessart and every day I keep experimenting and mastering my art.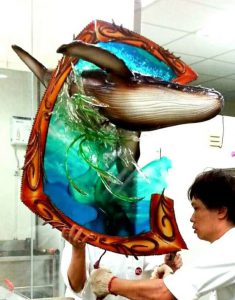 3. Pastry art is reaching extremely high standards in Taiwan. What are your thoughts on this?
The pastry industry in Taiwan is rather mature now, many young Taiwanese chefs learn from the best masters abroad and come back to create new brands. I think it is great and it can stimulate the local environment of pastry art. But I have a different objective. Being a world pastry champion was my first dream and I worked really hard to make it come true. My new goal is to create a dessert that represents Taiwan. This milestone requires hard work and a huge amount of time. I will spend the rest of my life to reach this goal. My studies and researches never end. I keep practising in order to create an eternal pastry masterpiece.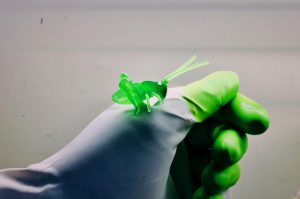 4. What about your relationship with Frozen Desserts? 
Frozen Art represents a new horizon and it is a different profession if compared to pastry art. I'm dedicating myself to creating artworks that combine pastry and frozen art. A few years ago, I visited the Carpigiani Gelato University in Bologna, Italy to learn the foundational knowledge of gelato such as its ingredients and the perfect proportions in balancing recipes. I have fun adding an Asian touch to my gelatos in terms of tastes and shapes.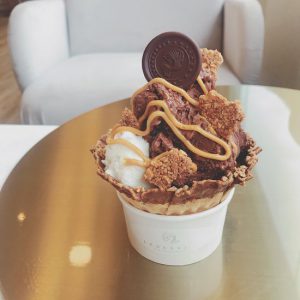 5. Please share with us one of your exclusive creations.
I recently created an artistic pastry work called "Pure Lemon" (in the picture below). This artistic work combines dessert art and frozen art. Taiwanese lemon and guava are utilised in this work. Read the full recipe here.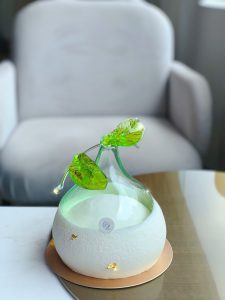 6. Last but not least, any advice for young students who want to become successful pastry chefs?
Today, pastry students have more resources compared to the past. They can absorb knowledge through many different channels, and that's a great opportunity. I think that "creativity" is the most important skill they have to develop. I encourage young students to practice and perfect their basic skills, and then I encourage them to use those skills to create their own signature works. I'm quite sure that the new generation of chefs will generate the most creative ideas. Healthy and high-quality ingredients are the basic elements, creativity and flavour are the key points to impress the customers. Let me conclude by saying that mastery is also a result of practicing perfection, only one who practices perfectly can attain mastery.