The Philippines is beloved for its natural landscapes as well as the exotic and delicious ingredients it provides. From bananas to mangoes, and papaya to pineapples, there is such a delicious range of fruits to choose from. Needless to say, Filipinos love food and have so many unique recipes. You may have tried (and if not, we suggest you do) Halo Halo, the quintessential local dessert and most popular "merienda". Other popular recipes are the Leche Flan, Ube Halaya, Sapin Sapin, and Mais Con Yelo. For sure the Chinese, Spanish and Malaysian influences have left their impact on Manila's food culture, but what happens when a young Filipino chef starts innovating with local creativity? One-of-a-kind flavor revolution. Frozen Art Chef has been pleased to interview its pioneer, the rising star Jordi Navarra.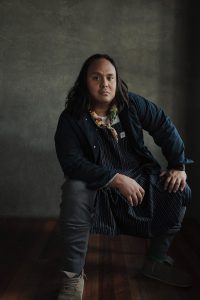 Chef Navarra is Toyo Eatery's owner and mastermind. At his restaurant (among the 50 best in Asia), the mundane becomes sublime. If you enter his restaurant, you will see chefs up front methodically laying out each fermented fruit, pickled vegetable, and flower petal, while the chefs in the back are firing up sauces. 
Having cooked at The Fat Duck, in Britain, and Bo Innovation, in Hong Kong, Chef Navarra counts on a big passionate team. A big part of it had been with Toyo from the start and even longer, coming in with Jordy Navarra from his tenure at Black Sheep in BGC (Manila, 2013 to 2015), where he created the iconic garden vegetable salad also known as Bahay Kubo. This 18-vegetable dish is so closely associated with Toyo that it could be his origin dish. The tight-knit team has now grown to over 20 members, including the bakers at Panaderya Toyo, their daytime bakery and cafe. While it has always been a favorite of in-the-know diners and food writers, ever since Toyo's 2018 honor as Miele One to Watch, and 2019's fulfillment as the only Filipino establishment in the 50 Best Restaurants in Asia, the restaurant has gained new waves of interest and is now booked for months in advance.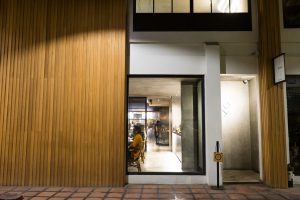 1.Hi Chef Jordi, how did your journey start?
I had a very colorful pathway into the culinary scene. At one point, before entering culinary school, I explored business and music. After graduating in Manila I worked abroad for a couple of years, first in the UK and then in Hong Kong. I learned a great deal in those places but I would eventually find myself longing for the Philippines—and Filipino food. I decided to move back because I wanted to cook food that I had a connection to, with food that I grew up eating. Eventually, we were able to put up Toyo Eatery and since then we've had the opportunity to cook food that best tells our story.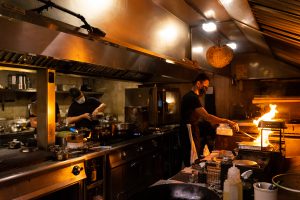 2. What about the Filipino's passion for Frozen Desserts? And which are the trends now?
One of the things I enjoy most about food is how sharing and experiencing it can be relatable to people despite coming from different cultures and ethnicities. Frozen desserts like ice creams, gelatos, and sorbets are wonderful food items that everyone can connect with instantly wherever you are in the world. And, apart from being easily recognizable, it's also easy to incorporate local ingredients into frozen desserts—which I think is the trend now, not just with desserts but in food in general. People are trying to discover what is local and are trying to make use of what they have.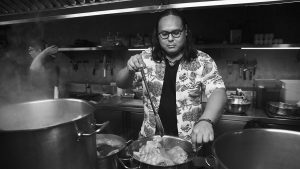 3. Would you like to share with us one of your cool creations?
One of the desserts on our tasting menu is the Leche flan ice cream. Leche flan is a classic Filipino dessert, quite similar to creme caramel. It's popularly eaten during gatherings. We decided to make an ice cream version of this. Identical to a flan, we use egg yolks, sugar, and milk. We mix these four ingredients together to create a mixture. We line a llanera pan (where Leche flan is traditionally made) with caramelized sugar before adding the mixture, which we then steam for an hour. We then cool the mixture for a couple of hours before placing it in the chiller where it sits for a day. After it has been set, the flan is blended with cream and milk. We strain the blended mixture and then age it in the chiller for another day. Once it's been aged, we churn this ice cream base at around -8 degrees Celsius. After being churned, we scoop the ice cream and serve it with Asin Tibuok. This entire block of salt is shaved using a Microplane, dusting the ice cream with a light and earthy salt that has mild smoky notes.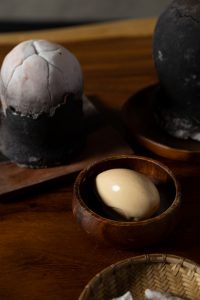 4. Any advice for Youngers who want to become successful Chefs in Asia?
Never stop learning. There's always something to learn or rediscover, especially with how broad Asian food is. 
5. Last but not least, which is the next frontier in Frozen Desserts?
I see it moving to a more healthy and sustainable approach. So we'll start seeing plant-based desserts that use less dairy, while also utilizing new flavors for sorbets.
Grazie, Chef Jordi!