"Are you ready to embark on a journey of flavours and experience frozen sweet & savoury food as an act of love and rebellion? If the answer is yes, an unforgettable memory awaits you at Gaggan Anand's Pop-Up Restaurant in Singapore, as the notable Indian chef – who won Asia's Best Restaurant award from 2014 to 2018 but also made it to the fifth spot at The World's 50 Best Restaurants 2021 – is in the Lion City until March 2022. It might be difficult to find an available slot, as local foodies are going nuts now that brilliant Gaggan has brought his multi-awarded eponymous restaurant in Bangkok for the second edition of Mandala Club's culinary takeover series, but let us recommend to have a try.
He and his original team of 20 staff—which had been flown over from Asia to Europe—have taken over the space of former pop-up restaurant Mirazur (by acclaimed chef Mauro Colagreco). As Gaggan says: "This is not a simple pop-up where I just smuggle in some ingredients in my suitcase with a couple of chefs… I am building a whole new restaurant here and recreating the full Gaggan Anand experience in Singapore." 
Frozen Art Chef is delighted to introduce you to Gaggan's latest culinary and pastry adventure, and invites you to discover his unique frozen-art masterpieces.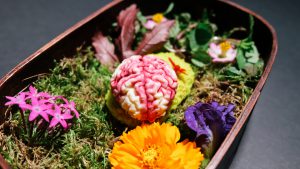 1. Chef Gaggan, tell us your first cooking memory.
It's more about being a foodie since you are a child! My passion for food started even before I held a knife. I don't think I could possibly remember how old I was or how mature my eating habits were, but that ride on the back of my Father's motorcycle to the Sunday wet market was one of the moments. We would get fresh produce and create a menu that we would cook together, and this became one of my fondest memories of childhood. I was always caught stealing food from the pots while dishes were cooking. I would dip pieces of bread into simmering curries and this simple act created such fond memories of food. The first thing I ever cooked was instant noodles when I was six or seven years old. I cried after cooking it because it didn't look like the picture on the packaging. I grew up cooking with my parents, eating home-cooked food with conversations around the dinner table and discussions of menus and dishes to be cooked and served at celebrations and festivities. Thank God cooking is not working, but rather an act of love and affection from you to your loved ones.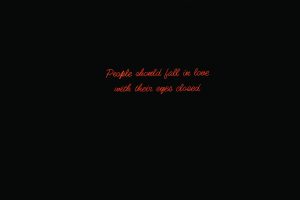 2. When did you start thinking about becoming a Chef and what did you do?
I always wanted to be a musician. I dreamt of being a professional drummer in a band, but one day, as a teenager, I realized that my economic situation would never improve pursuing my dream as a musician, so I went to the next thing I knew best, which was cooking. I was admitted to IHMCT Kovalam in 1997, about as far away from home as one could be, and I never looked back. I never saw a horizon without the view of a kitchen in it. I remember my first cooking instructor recognizing raw talent in me. He observed as I cooked glazed carrots, caramel pudding, bread rolls, steak, mashed potatoes, and beans, I remember it like it was yesterday. Since then, life has been a complete rollercoaster ride.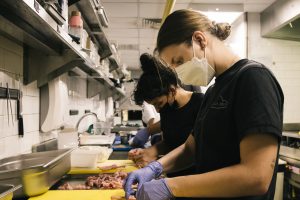 3. What would you advise young chefs today?
Find love and soul in food! As a young chef graduate, I started as a kitchen management trainee at the Taj Group. There I learned the basics of the industry, but at that point, I had not found Indian cooking very attractive. I wanted to learn western cooking, so I took a course in Switzerland. Life is all about uncertainty, I went on a solo career of struggle, uncertainty, and growth. I learned lessons that you couldn't buy in the most famous university, but rather ones that only come with reality checks. This is when I discovered a food that was humble, Indian and it tasted like memories from my childhood. I gained knowledge through precious exposure to talented home cooks and fantastic Halwais (domestic catering and street chefs). My skills soared from their instruction. 
Along the way, I ran a catering company where I not only made mistakes and got all of the necessary cuts and burns but also became the chef, rather the person I am today. So, young chefs, go out and explore, as you have to see with your eyes and touch with your hands. Don't rush, study, work smart, do it wise and right. Don't worry about making mistakes… Food is the real answer.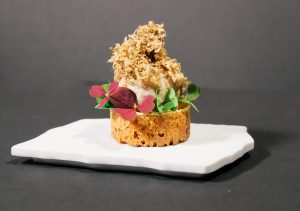 4. Why did you choose Bangkok to open "Gaggan"?
I took an assignment on a consulting project there and it was love at the first sight with Bangkok and its people, its food, and its lifestyle. Ironically, it was Valentine's Day when I first landed in Thailand. I worked non-stop until November of 2009 and finally felt compelled in my brain and soul to do my own thing. That's when the idea for 'Gaggan' happened then the reality sprang together faster than I had imagined. This chapter of my life began with a dream, A dream to change the ugly status of Indian cuisine in the world and bring to it a philosophy of progression to make my cuisine equally great among the others. 'Gaggan' and its success was innumerable but my soul felt empty, at a certain point, and I needed a change. The separation process with my partners began on the 24th of June, 2019, one day before the World's 50 Best Restaurants list was to be announced, where we received No.4 best restaurant in the world (the highest ever for a restaurant in Asia). One of the most powerful moments of my life was finding that my team of 65 rebels defied the promises of money and instead chose love and loyalty. I became the leader of a band of rebels who express love as a family running a restaurant.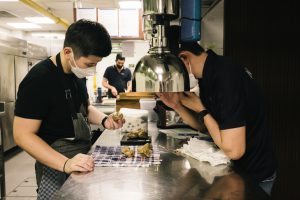 5. And you began a new journey with them.
Yes, we rented a new place with the intention of opening a new restaurant in record time, approximately 3 months. I left all my fame, awards, trophies, and stars behind to be buried with the fondest memories of my old adventures. As my Mom always says "You have to begin a new journey from the bottom of a mountain," so here we were starting fresh. In 2 odd months, we not only put together a new restaurant, but I was able to spend more time with my wife, Pui, and my daughter, Tara, and realize that I would always value family over fame. Those who work with me are now my family too, a tribe of different personalities, characters, mad and wild people who have taught me the best lessons in life.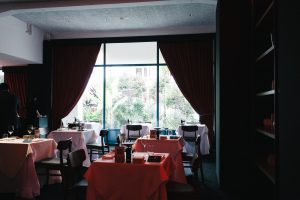 When the Covid-19 pandemic began, we started traveling. We did pop-ups in Japan, we participated at the Mozzarella Street Festival in Paestum, Italy, we moved to Brazil and we collaborated with Alex Atala and Massimo Bottura (we loved working with left-over ingredients in his "No Waste Kitchen"). We collaborated with Virgilio Martinez in Peru and Jorge Vallejo in Quintonil, Mexico and we spent some months in New York at the Chef's Club too. We then made Singapore our temporary home and just like in our Bangkok establishment, we'll be at the restaurant to personally interact with guests throughout the meal until March 2022.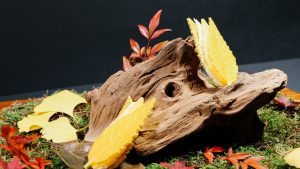 6. What to experience at your restaurant, in Mandala Club?
Unforgettable memories. The experience begins the moment people step foot in the main dining room, swathed in dark hues and accented by a modernised painting of The Last Supper plus some random words in thought bubbles such as 'smell' and curry'.
There are no printed menus, rather, our customers receive a booklet with Gaggan's real passport image and a set of rubber stamps with different emojis. As the staff explains, "you can create your own emoji menu based on your taste memories and dining experience". The degustation menu spotlights progressive Indian cuisine, where traditional dishes and popular street food snacks are presented in innovative ways.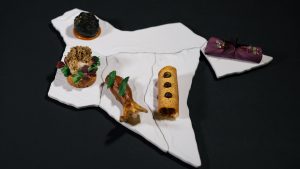 7. What about Yogurt and Frozen Desserts?
Of course, there is no better way to start the meal than with the Yogurt Explosion, a signature creation that has been on Gaggan's menu since 2010. The quintessential Indian ingredient is presented as a blob of chaat masala and black salt, which you lay on top of the accompanying green lotus pad made from green chutney to savour in one bite.
My Emoji Dessert Leaf is made with mango, passion fruit, sake'. It is placed on an Autumn background and its taste is delicate, fragile but unforgettable.
The Surf & Turf, pairs the savoury foie gras ice cream with monkfish liver, cured with miso and sake to liven up the rich flavours before it is poached and seasoned with homemade togarashi.
We are working with Carpigiani machines, at Mandala Club, and we are experimenting new flavours and desserts with great satisfaction. 
As an ode to Singapore, we have also included a dish inspired by our love for ice kachang. Our take though is a flavoursome medley of burnt eggplant miso topped with a shaved ice of kelp dashi, yuzu gelatine, Hokkaido uni and shiso blossoms.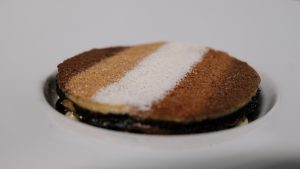 8. Your relationship with Frozen Art looks sensational! Would you share with us one of your recipes?
Of course, I'm happy to share with you the recipe of my Orange Kulfi Kolkata. As a child, I loved it, as well as ice cream and kulfi. And my father had an old-school wooden ice cream machine, my passion for making frozen desserts started early. I grew up in Calcutta, the British Capital of India, a city with a strong presence of western recipes. Moreover, Indian cuisine has many similarities with European cuisine as we are vegetarians, and we love fruit, sugar, and milk. Let me be provocative: I also believe that Buffalo Mozzarella comes from India, as we used to drink Buffalo Milk from ancient times. And black pepper comes from India, and it can be found in guanciale too: could it be destiny?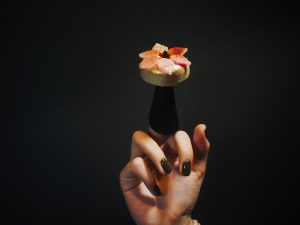 9. Which will be the Frozen Dessert Trends in the next few years?
There is a new shift: sugar-free and lactose-free options, health-conscious, vegan, and plant-based desserts. 
It's also more about how it looks on a camera, rather than taste. The competition is very tough for chefs today, aesthetics are everything. I love playing with gelato and experimenting with different textures and gastronomic, savoury flavours.