What's better than a "Gum Nut Baby" in the hot season?!
Frozen Art Chef is pleased to share an exclusive and cool recipe ideated by John Crowl, the talented winner of the 2017 Gelato World Tour and Australian finalist at the Gelato Festival World Masters Competition. John Crawl founded Cow and The Moon, in Sydney, many years ago. Cow and the Moon artisan gelato bar is a little piece of deliciousness nestled in the heart of Enmore. Its passionate crew is all about quality gelato and tasty treats as well as fairtrade coffee made with love. They make all of their Gelato in an in-house Lab and use only the freshest of ingredients such as milk, fruit, and cream as well as the best selected Italian gelato products. John keeps innovating with his son (and worthy heir) Sam and also his daughter Olivia is now an integral part of Cow and the Moon:  she looks after all social media channels of Cow and The Moon and she also produces wonderful photos (as you can see below).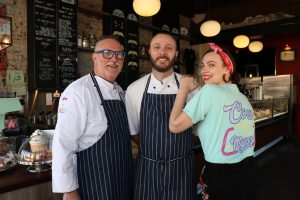 First of all, what's Gum Nut Baby? An almond granita with a coffee emulsion softly whipped cream, and a Sao Tome chocolate sorbet, named by Olivia because of its "shooting" effect.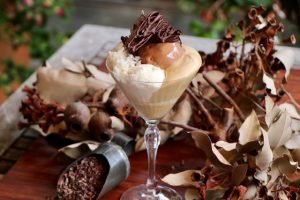 "I decided to plate it up in an elegant glass as working with Granita can be difficult with melting on a plate, not impossible though," says John Crowl. "Feel free to edit the recipe as you wish, and please note that it is difficult trying to take photos of Gelato as it melts very quickly especially when it is warm and humid as now in Australia!".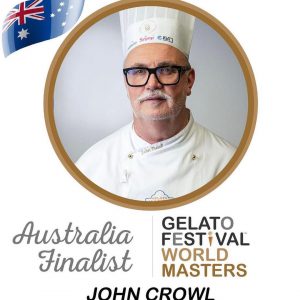 Here is the recipe.
Sao Tome Chocolate Sorbet 
Ingredients                                               
    650 g  Water                                                  
   180 g   Sugar                                                  
    40  g   Dextrose 
    10 g    Cacao Powder 22/24 
      3g     Stabiliser    Neutralin               
180g      Sao Tome  chocolate  71% cacao  42% cacao butter 
     1 g    Salt   (as one likes)
Method 
Heat water to 70 Deg C
Mix sugar, dextrose, Cacao powder, and stabiliser together.
Blend with a stick blender the hot water and dry ingredients for one minute.
Add the 55 Deg C melted chocolate to the sugar syrup and emulsify well with the stick blender.
Cool the chocolate sorbet liquid for 1 hour.
Place in the Batch freezer and churn.
After extraction place in the blast freezer for 30 minutes and then into the storage freezer for one hour ready for plating.
Almond Granita 
Ingredients
   75g    Almond paste Pure 100% Avola
   65 g    Sugar  
   240 g  Almond Milk 
   230 g  Water
Method
Blend all ingredients with a stick blender for one minute.
Place into a batch freezer that has the special

 

function "Granita''
Care must be taken not to over freeze the Granita in a commercial ice cream machine.
Alternatively, Place the liquid Almond Granita in a shallow tray 15 cm x 15 cm and place it in a storage freezer.
Check every 30 minutes by scraping a fork through the mix to aerate the ice Crystals until the desired texture is required.
Coffee Emulsion 
Ingredients 
  100 g Sugar
      8 g Instant coffee powder
    80 g Iced Water 
Method 
Place all the ingredients into the bowl of a small domestic-style planetary mixer.
Whisk on high speed for a few minutes or until the desired emulsion has reached.
Place the Coffee emulsion in the refrigerator until required.
Place in the piping bag before the assembly of dessert.
Whipped Cream 
300 ml pouring cream 
Lightly/soft whip
Place in a piping bag before assembling the dessert.
Creating the cup or plate 
Splash the chosen glass with or plate with melted chocolate.
Place

 

glass or plate in the fridge to set the chocolate splash
Place a generous amount of almond granita in the base of the glass and sit proudly on one side of the glass.
Pipe a small amount of the coffee emulsion up the glass next to the granita creating a balloon effect.
Pipe a small amount of the softly whipped cream up the glass next to the coffee emulsion, creating the balloon effect.
Place a small scoop of chocolate sorbet in the center.
Decorate with chocolate, sugar work, or your choice of decoration.
Special Notes:
Prepare the chocolate sorbet and the Almond Granita in advance.
Prepare the decorations in advance.
Prepare coffee emulsion and the softly whipped cream just before plating up.
Enjoy it, dear Frozen Art Chef lovers!