It is one of those exciting stories that journalists love to tell. The first article I read about Mirko Febbrile was putting in the spotlight his journey from Puglia to Singapore: "a young Italian cook hustling at his local McDonald's to pay his way through college, just two years later winning the highly coveted Michelin star in the cosmopolitan Singapore".
What I know after interviewing him, is that it's only the beginning and I'm willing to reveal you what's behind his incredible career and why he will never mix pastry and bakery.
Let's start. Mirko Febbrile is actually the Chef de Cuisine at Braci, a one-star Michelin restaurant in Singapore and among the best Italian restaurants internationally.
Ciao Chef Mirko, tell us about you!
I was born in Puglia (Italy) 29 years ago and I'm a detail-oriented and results-driven chef with a passion to deliver game changing culinary experiences. After graduating in 2010 from the Institute of Culinary Arts in Molfetta (Bari), I had my first working experience in a small cafe in my hometown. And yes, McDonald's was my job for many years while I was studying at the University. It was around the corner, I had to pay for my studies and McDonald's not only gave me the opportunity to work for little hours and keep studying but taught me a lot about customer relationships, consistency, cost-management and hygiene processes.
I always wanted to leave Italy and discover the world, but I knew that before departing, I had to get all the instruments in my hands to make it work. And I also had to study languages.
One of my best talents is adaptation to challenges. I did my best to complement it with a leadership approach and sharp organisational skills. My goal is to spearhead any culinary adventure to deliver the best of its kind. Since 2015, I'm based in Singapore and I'm helming Braci since its opening. I steered its operation to achieve a one-star Michelin rating in 2017, 2018 and 2019.
2. When you started your culinary journey, were you thinking about working in Singapore?
My parents were at work all day long and I had to take care of my little brother. My very first cooking approach was due to a survival instinct. I had to fill in our stomachs with food. And obviously it was very difficult, first, because I had no idea about how to handle ingredients, second, because the fridge was empty most of the times, so I had to make it work whatever was available.
To me, food is what we truly are. It's our history, our joy, our pain — an expression of ourselves. Food inspires and surprises me every day, this is the reason why I'm a chef.
Singapore was definitely not in my plans; life is unpredictable. As soon as this opportunity kicked in, I immediately clarified what I wanted to achieve in the following 5 years. I had a precise strategy and it's still ongoing. The best is yet to come!
I worked hard during all my life and I sped up the game in the past five years to make things work and evolve in a very short time. My hunger for knowledge is inexhaustible and I keep getting excited every time I discover a little new precious thing.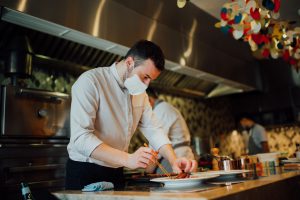 3. The Singapore food scene sounds inspiring. Tell us more and please reveal us the most recent food trends.
Singapore is an amazing multicultural place where you can make the lucky choice to dine in a different restaurant every day for a year without repeating it.
The local food scene is exciting, colourful and, most of all, it is full of quality in terms of ingredients, techniques and creativity.
Italian cuisine – as well as it happens like in many other countries of the world – is among the favourites here. Chefs are full of passion and able to deliver most of the time an experience that is totally based on freedom of expression, open mindsets, innovation and new contaminations. I believe that's why Singapore is one of the best working places for a chef. You can professionally evolve without forgetting the roots. This city-state has been founded on such an interesting paradox, it's traditionally gorgeous and always forward-looking. Singapore had a difficult year like most of the places in the world. Vegetarian places are very trendy now, because being more conscious about what's going on in the world in terms of wastage or productivity or simply caring more is considered a priority here.
4. What about your relationship with Frozen Desserts?
The very first things I learned during my education were gelato and pastry. I clearly remember that the first ever Carpigiani machine I used was way bigger than me and, beside producing the best gelato, I really loved to clean it and open up all the pieces. I was fascinated by its engines. I wanted to understand how a machine can turn liquids into such an amazing frozen fluff.
The first Italian pastry shop where I worked was realising a frozen dessert called Spumone (or newlywed dessert, basically the one and only dessert that both groom and bride used to send to people that didn't attend the wedding but wanted to give them a small present). This recipe is full of history (it was originally developed in Naples) and it is one of the oldest desserts in Puglia. Made with layers of gelato (hazelnuts, pistachio and dark chocolate) with a heart of amarena cherries and a base of sponge soaked with Alchermes liquor. It's still my favourite and it is a mind-blowing frozen dessert.
I like Frozen Art when there's a purpose that is not "just impressing the eyes".
I love Frozen Desserts when they enable me to experience tastes, textures and thoughts.
As a carbs-addict, I don't think pastry and bakery are a perfect match. They are totally different and beautifully complex worlds.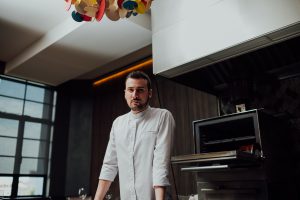 5. Please share with us one of your signature creations.
Of course, I hope that the Frozen Art Lovers enjoy my "Sicilian Cassata gelato". It's a modern version that includes Sicilian sheep ricotta and also 30-month old Parmigiano "Vacche Rosse". Click here to read more.
6. An advice for all the young students who want to become outstanding chefs?
It is maybe too obvious but hard work and perseverance always pay off.
Being only talented is not enough; recognising a great flavour is not enough; working hard and being too focused is no longer enough.
A combination between all of the above qualities, along with a great attitude and a strong personality will make the difference. A precise purpose that is different from: "I just love cooking" will make the difference. 
And when you need an inspiration, turn to art, music and nature. These are the things I look up the most. I love to transport a song or a concept or a philosophy into a dish.
7. Last but not least, let's speak about future trends.
Sustainability is the only trend I approve and I wish will last forever.
Molecular or futuristic, unfortunately it is not what's in store. But I completely agree with the philosophy coming from Note by Note (André Chiang spoke about that at the At-Sunrice GlobalChef Academy in Singapore last year) that says: "We waste more than we eat. We eat more than we need!" There's nothing more real and true.
Creating something and being conscious about what's going on in the world, taking into account of the many diseases and disturbances related to food and the way nowadays everything is done or processed is a very sincere and genuine approach. Awareness should be the key word. Real food and taste without transforming the ingredients too much. People will still take pictures to post on socials. No big deal.