We are pleased to share with you the "Bur Bur Pulut Hitam" (Black Glutinous Rice Porridge) gelato recipe, an exclusive creation who contributed to let the Singapore Team win the 2018 Asian Gelato Cup at FHA.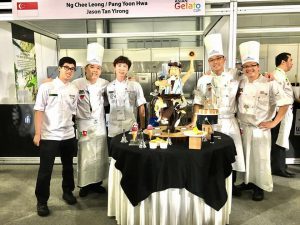 Special thanks to Chefs Ng Chee Leong (team leader), Jason Tan Yirong and Pang Yoon Hwa.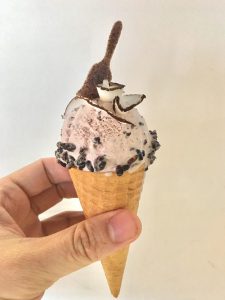 And to Chef Kenny Kong and Dylan Ooi too.
Try it and share with us photos of your creations: you can write at discover@frozenartchef.com!
Bur Bur Pulut Hitam (Black Glutinous Rice Porridge Gelato)
Black glutinous rice has been a staple ingredient in our Asian culture and its most popular form is a dessert named Bur Bur Pulut Hitam or Black Glutinous Rice Porridge, often topped with a serving of salted coconut milk.  We aim to celebrate the tradition of Singapore's diverse culture with a gelato inspiration from a dessert close to our Nonya roots. 
 Ingredient Quantity
Milk 980g
Skim Milk Powder 175g
Sucrose 170g
Glucose Powder 89g
Trehalose 89g
Dextrose 89g
Cream 354g
Coconut Cream 450g
Stabilizer 3g
Cooked Black Glutinous Rice 600g
Method:
Mix all powders together. Warm milk to 40˚C and add powders. Warm to 45˚C and add coconut cream and cream. Pasteurise at 85˚C and cool to 4˚C. Blend in cooked glutinous rice and leave the mixture to rest in the chiller. Churn in a batch freezer.