Ever thought about a virtual luxury dining experience? 
You can have a unique try in Singapore, now. The recent global challenges inspired Emmanuel Stroobant, passionate chef and owner of the two-Michelin starred Saint Pierre restaurant, and his wife and business partner Edina Hong. They created a revolutionary first-class home delivery service, ensuring that fine dining doesn't have to be put on pause. Virtual Saint Pierre is a new culinary experience that reinvents the traditional concept of social gatherings. Diners can indulge in the restaurant's elegant contemporary French cuisine in the comfort of their own homes while enjoying a virtual get-together with friends and families using the Zoom video meeting app. 
How does it work?
The unique dining experience begins with Saint Pierre personally delivering a specially curated omakase meal to the diner's home in a premium bento box. To start the digital party, diners will have to enter a virtual room on Zoom, using a link provided to them along with their meal. Once all guests have gathered, Virtual Saint Pierre commences with an appearance by none other than Emmanuel himself, who will interact with guests and introduce them to the menu's selection. The party continues at the guests' leisure. 
Curious about knowing more? Read the exclusive interview that Emmanuel Stroobant dedicated to Frozen Art Chef.
1. Chef Emmanuel, did Saint Pierre already realise home deliveries before the start of the Singapore's Circuit Breaker?
We used to do occasional classical catering prior to the circuit breaker, but it is the first time we are preparing meals in a "bento" concept and with a virtual experience around it.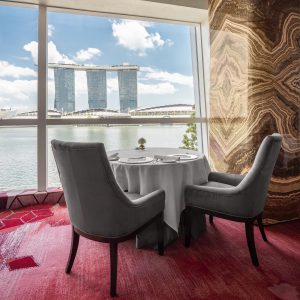 2. Will Virtual Saint Pierre plan to continue being proposed when the Circuit Breaker ends? 
We will need to observe how the situation evolves beyond the circuit breaker, but yes, we would contemplate maintaining it.
3. How was this project ideated? We know that Edina Hong, your beloved wife and partner in the Emmanuel Stroobant Group, had a big part in it. 
Yes, it was Edina's idea, and she came up with the whole concept and packaging. I started working on suitable recipes to fit the boxes and we did a few trials prior to launching the concept. She wanted to maintain Saint Pierre's style of service as close as possible. When we have guests in the restaurant, they don't have to cook or reheat their food, nor do they have to wash the dishes. It was her desire that we could deliver an impeccable service and insisted that deliveries would be made by us to maintain full control on every aspect of the experience. After the recipes, we did a few "stress tests" to make sure that the food would be perfect served "cold", and that the presentation remains even after a few hours in the fridge. We also had to look at transportation and how the food would carry during transport. The team also did a "technical" test to see how the guests are able to "meet" online. We did a full rehearsal with nearly 30 guests at once prior to launch.
4. In these changing times, our family represents – more than ever – an invaluable source of strength. Can you tell us more about your love story and entrepreneurial adventure with Edina? 
I met Edina in Kuala Lumpur in 1997 and we moved to Singapore in 1999 shortly after we got married. We opened together a tiny restaurant with our savings and the help of Edina's parents the following year. We were lucky as it was probably the right time, right place, and right concept. She has always been more business-oriented and drove the business to what it became today. I was the technician behind, putting my creativity and experience at work, and Saint Pierre is the result of the combination of both our very different skills. Since 2000, we have travelled the world, looking at food and hospitality in general while focusing our entire energy on managing our businesses. We have been married for over 20 years and have 2 daughters, aged 8 and 11. Today, the importance of family and love is very much reflected in anything we do, from the way we work with our team to our reputation for being a kids-friendly dining venue.
5. What is your advice for all the chefs and entrepreneurs who may want to do something similar now? 
Unfortunately, there is not a "one size fits all" solution. Depending on your own starting point, the direction will be very different. We have friends who are doing well selling simple baked goods and using third party deliveries to deliver their products. Others have succeeded in doing virtual cocktail making classes and pizza deliveries. It is hard to cover all the possibilities but, regardless of a crisis or a regular day at work, determination and grit are certainly part of the recipe. Once you have achieved it, the rest will come: creativity, thinking out-of-the-box, and surrounding yourself with a great, positive team. When all these come together, only the sky is the limit!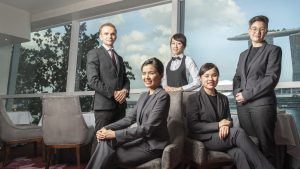 6. Are you considering/revising similar luxury home deliveries for the other restaurants you are managing? If so, please give me some details about it.
We are only focusing on Saint Pierre with this concept at the moment, although we will also be launching a special collaboration with our fellow two-starred Japanese restaurant Shoukouwa, for the upcoming Mother's Day celebration. We will present an exclusive Mother's Day bento box, a five-course menu that marries the best of French and Japanese flavours over a selection of premium produce. To know more, click here.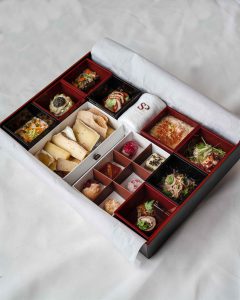 7. Frozen Art. How strategic is it in your menu? Please share with us some inspirations about the present and the future of Frozen Art.
Unfortunately, we are not able to include any frozen items in the Virtual Saint Pierre bento concept for technical reasons (we live in Singapore and it is 32°C all year round!) but we definitely have ice-cream and sorbets at Saint Pierre.
I never took any "formal" frozen art courses, but I like to experiment. I am very sensitive to texture so yes, I like the idea of "hot and cold" contrast, but I try to maintain the use of frozen elements toward the end of the meal. Cold (as in frozen cold) tends to annihilate taste buds, and restrains the sense of smell as frozen aroma are less likely to be volatile. So, and this is very personal, I prefer to use it after the main course has been served. It is hard to pinpoint my favourite frozen dessert, but I still remember a tarragon sorbet I had at Pierre Gagnaire years ago and it was maybe one of the most amazing sorbets I have ever tasted. I am not a pastry chef, so I rarely create sorbet or ice cream as desserts, but frozen art does not have to be exclusively sweet. We played with hay ice cream to pair cheese, white balsamic sorbet as dressing and more recently experimented with different tea (from green to black) as well as fruit fermentation.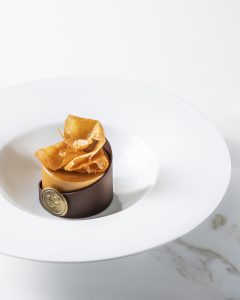 Thank you very much, Chef Emmanuel! And congrats on going the extra mile with Virtual Saint Pierre!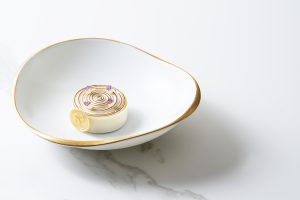 Did you know? 
The cherry on top is that Saint Pierre has partnered with Rapzo Capital to donate $25,000 in-kind. For each Virtual Saint Pierre menu order, the restaurant will purchase a Coronavirus Prevention Care Packet from Project Chulia Street. This will go to helping migrant workers in Singapore who have been hit badly by the Covid-19 crisis. Plus, Saint Pierre is donating 100 meals to frontline healthcare workers weekly until the end of the circuit breaker.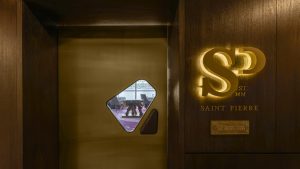 At Virtual Saint Pierre, there are two menus available at $180++ or $220++ per pax. Minimum of 15 people, with a maximum of 30. For reservations, please email info@saintpierre.com.sg or call +65 6438 0887 at least five days in advance.
Saint Pierre is a contemporary French restaurant with a history of fine dining excellence since 2000. Located at One Fullerton, Singapore, the restaurant offers diners one of the best views the city has to offer, with floor-to-ceiling panorama of the Marina Bay waterfront. The cuisine is guided by Chef Stroobant's philosophical approach to simplicity and quality of produce. Saint Pierre earned its first Michelin Star in the 2017 edition of Michelin Guide Singapore and retained it in the following year. In 2019, Saint Pierre was awarded its second Michelin Star. The restaurant is also the only Singapore member of the world-renowned Relais & Châteaux, the prestigious association of the world's finest hotels and restaurants.