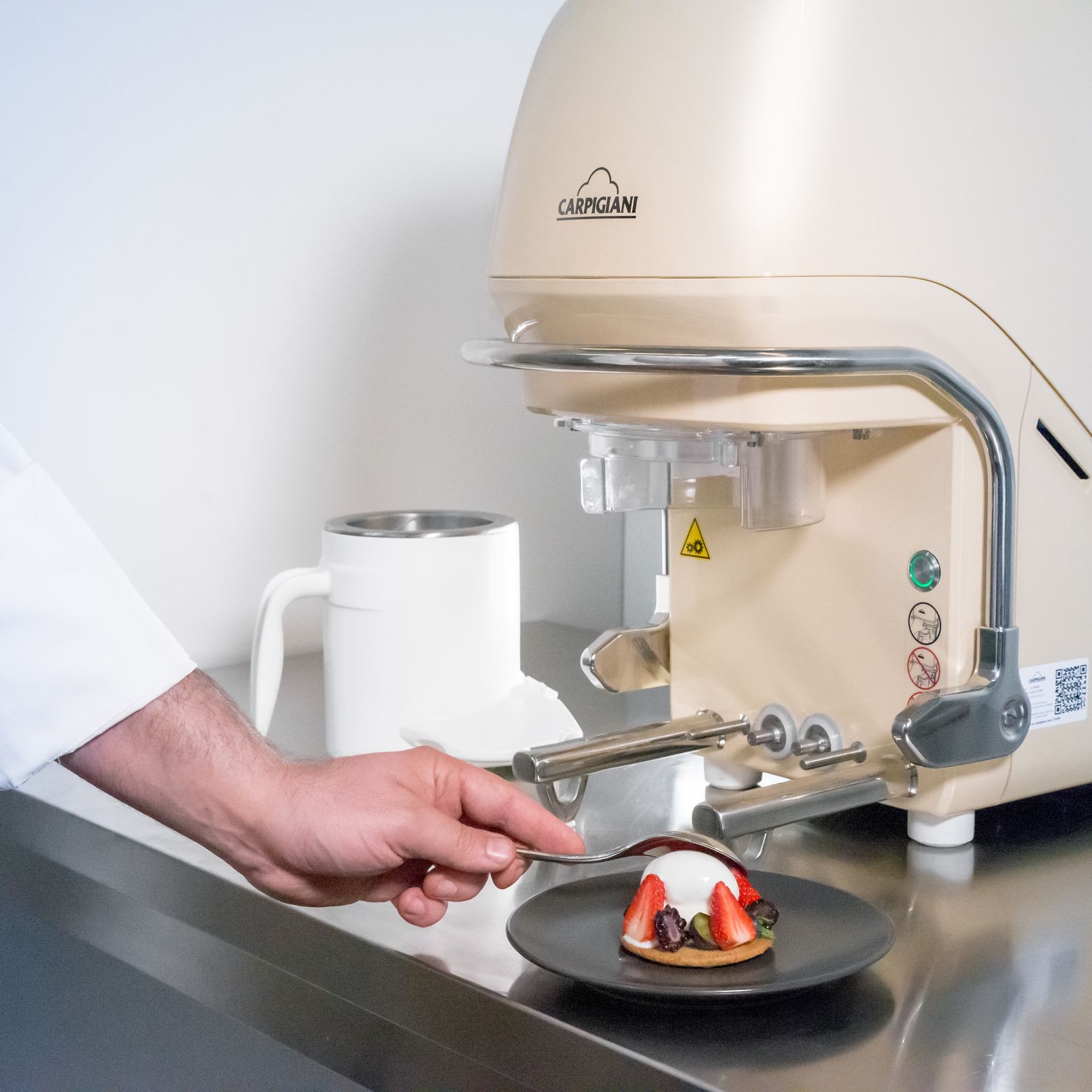 Journal
The latest technology is compact: Gelato has never been so "hot" in a Chef's Kitchen
Did you know that the first gelato was served on the table as a fine dessert? It was in the spotlight at sophisticated parties organized by European Royal families in the Renaissance. Precious sculptures of brittle with fruit sorbets, elaborate molds filled with flavored creams, flowers and spices adorned sumptuous banquets in honor of European notables and rulers. Today gelato is back on the table thanks to skilled chefs, pastry artisans and compact technology.
Carpigiani has taken into consideration the most common needs in the development of new foodservice machines, and its technology can be summarized in six characteristics: quality, performance, convenience, savings, safety, and hygiene.
Quality
Always fresh gelato thanks to a wide range of technological solutions for every space and requirement.
Performance
Always perfect results thanks to the intelligent technology that achieves optimal consistency and maintains it until extraction.
Convenience
Reduced dimensions, ease of installation, and adaptability to activities in the kitchen.
Savings
Reduction of food costs and waste using milk, fruit, vegetables and many other ingredients already used in the kitchen.
Safety
Rounded edges for the Freeze & Go and Quartetto. Automatic interruption if the doors are opened during freezing. Online monitoring of performance with the Teorema app for the 161 G SP soft gelato machine.
Hygiene
Easy to wash and keep clean. The 161 G SP soft gelato machine is self-pasteurizing with washing intervals of up to 42 days.
At Sigep 2019 Carpigiani presented FREEZE&GO, the smallest professional batch freezer in its class.
Ideal for foodservice and featuring a completely renovated vintage design including the "Bolognese cream" color of the first automatic machines of the historic Bolognese brand, world leader in the production of machines for artisanal gelato.
The world of foodservice is about to be revolutionized by the new Freeze&Go, the most compact countertop batch freezer in its class that in just 55 cm contains the power and reliability of Carpigiani technology. Its success is guaranteed by a sinuous shape and vintage design that features the "Bolognese cream" color of the first automatic machines of the historic Bolognese brand, world leader in the production of machines for artisanal gelato. Designed for use in restaurants, it can produce small quantities of gelato – up to five portions – in just a few minutes. This makes it possible to avoid waste, and the gelato will always be fresh and ready to satisfy demanding customers.
Freeze&Go is equipped with a plug&play system that allows you to simply plug it into a power outlet, and is even easier and more convenient to use thanks to the removable and interchangeable cup with additional features. Very silent, it can be used directly in the dining area to further enrich customers' experience.
Artisanal gelato frozen according to Italian tradition can be added to the menu without upsetting the organization of the kitchen thanks to a compact size with single-phase power cord and very fast production speed. From amuse-bouche to dessert, menus can be expanded with new textures and temperatures recalling centuries of Italian tradition that since the Renaissance has placed gelato on the tables of kings and emperors.
Freeze&Go will be the main machine for the new educational program Carpigiani Gelato University – Foodservice Professional. The school targets an audience of professionals seeking to expand their training so they can develop new and creative product lines.
Carpigiani also launched the new Labo 8/12 XPL P and the Labo 6/9 XPL P, new high-performance counter-top batch freezers  that allows to expand the Chef's Menu by createing delicious and surprising gelatos and sorbets to all the Chefs and F&B professionals.
Curious to know where to find these innovative machines? At three Michelin starred restaurants as the Waterside Inn…
The Waterside Inn is a restaurant that needs no introduction, but when brothers Michel & Albert Roux first set eyes on the establishment in 1972, it was far from the renown it carries today. Here, Michel Roux, OBE, explains how he and Albert transformed The Waterside into a three Michelin starred restaurant, and why the Carpigiani machines are the only ones they can trust to deliver the results a venue like The Waterside demands. Read more at 
https://www.carpigiani.com/en/news/Carpigiani-Michel-Roux-Waterside-Inn
.
And to discover the full range of gelato machines that Carpigiani realized for Chefs, click  here .